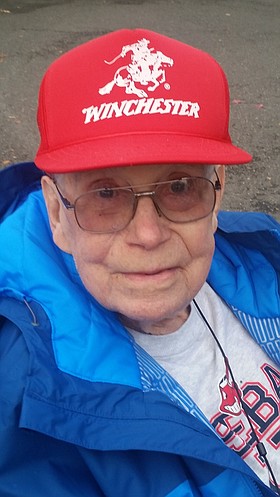 William Henry Braden
Gresham, Ore.
January 8, 1929 - March 14, 2017
William Henry Braden, Jan. 8, 1929, to March 14, 2017, died at the age of 88. William was the second of six children, born to William Loyd Braden and Eltie Myrtle Roberts Braden. That included sisters Jessie Braden David and Shirley Braden Sims, and brothers Frances Gene Braden, Howard Dale Braden and Gary Von Braden.
William enlisted in the Army in 1951 (during the Korean War) after he was notified he would be drafted. He said, "They need me, so I will go serve and be the best soldier I can be." He drove a half-track and was the relief driver for the company commander, Colonel Ealy. Ealy once asked William, "What education do you have Braden?" "Eighth grade," he replied. "Same as me," said the colonel. "I won my commission in the field." William loved to play cards, pinochle and poker. He loaned money to his Army buddies, and upon returning home from Korea, his mother told him, "Son, you sent more money home to me than the Army paid you!"
William met and fell in love for life, instantly, with his wife Mary Lou in Forsyth, Mo. He married Mary Lou Wyatt on June 30, 1956. They were married for 58 years before she preceded him in death. He was a wonderful husband, father, grandfather and provider. William was a skilled automobile and heavy equipment mechanic, a builder, and equipment operator. He worked for the State Highway Department in Missouri before moving to Oregon. There he worked for Hanel Lumber Company, where he retired in 1987. He continued to work in his retirement, as the sign on his barn read "Have tractor, will travel." He plowed gardens, cut grass and did lot grading with a small Kubota tractor. He always loved to tell stories of his life and you could often find old and new friends or family sitting with him enjoying the stories he shared. He was loved by everyone and still played bingo, poker and pinochle. There was never a person that he met that he didn't share his love of Christ with. He enjoyed reading his bible and prayed daily for his family and friends.
William leaves behind a large family that includes five children, William Arter Braden, Monty Radelle Braden, Marty Lynndelle Braden, Maria Estelle Braden Cannon, and Tina Manette Braden Meyers, 12 grandchildren, Deejay Cannon, Amy Cannon Stewart, Jaydee Cannon, Billy Cannon, Kara Braden, Kelli Braden, Rebekah Braden, Danya Altringer Anderson, Taylor Altringer, Genna Altringer, Lydia Braden Glover, and Wyatt Braden, and eight great grandchildren with one on the way.
At the time of his passing, he was a resident of Powell Valley Assisted Living in Gresham, Ore. William was a member of Hood River Church of Christ, and more recently attended Metro Church of Christ in Gresham.
A service will be held 11 a.m. on Saturday, March 25 at Hood River Church of Christ, 1512 Tucker Road, with a reception immediately following. Interment will be at Idlewilde Cemetery, 980 Tucker Road, at 2 p.m.
Arrangements under the direction of Anderson's Tribute Center (Funerals • Receptions • Cremations), 1401 Belmont Ave., Hood River.
Visit www. AndersonsTributeCenter.com to leave a note of condolence for the family
Services for William Henry Braden
March 25, 2017

Funeral: 11 a.m.
Hood River Church of Christ