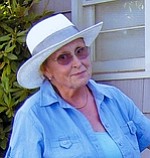 Connie C. Miller
Parkdale, Ore.
January 23, 1945 - March 26, 2017
Connie C. Miller passed away at the age of 72 in Parkdale, Ore., on March 26, 2017.
Connie was born on Jan. 23, 1945, in Twin Falls, Idaho. Connie was a unique, colorful and artistic woman. She began her career as a hairstylist and then later a business woman. But it was her passion for photography that led her to meet her partner of over 20 years, Terry Tambara. They travelled together and lived in Portland, Ore., until later moving to Parkdale, where she fell in love with Terry's family orchard.
In Parkdale, Connie's love for gardening grew — she could grow just about anything and won blue ribbons at the county fair. If Connie wasn't outside, you could find her in the kitchen making delicious meals and desserts, often with her garden's bounty.
Connie is survived by her partner, Terry Tambara, of Parkdale, daughter Wanda Taylor (Brad) of Olympia, Wash., granddaughters Hailey Gurrad (Matthew) of Kirkland, Wash., Rachel Baran (Geoffrey) of Olympia, and great-grandchildren Kate, Lucas, Cameron and Carley.
Connie will be greatly missed by her family and friends. She was a vibrant spirit who always had something to say and a laugh that could light up a room. A private memorial will be held at a later date.