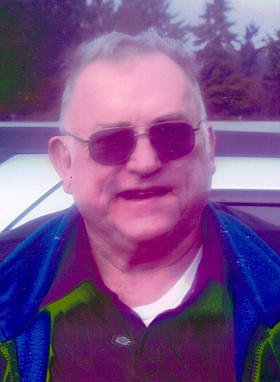 Norman Patton
Hood River, Ore.
April 6, 1942 - March 28, 2017
Norman Patton was born April 6, 1942, in Bennett County, S.D., to Roy and Margaret Patton.

The family moved to Parkdale, Ore., when Norman was about 4 years old. The family wanted a new start farming and joining other family members here in Oregon.
Norman attended the following schools in Hood River: Coe Primary, Park Street, May Street, and the Hood River High School.
Norm met the love of his life, Sandra Williams, during their school years and they were married in November 1962.
Norman joined the Teamsters, working construction on the Columbia River Dams along long Interstate 84. After the eruption of Mount St. Helens, Norman spent the remaining 20 years of his work life in the Washington area around Longview, Wash., in the reconstruction of dams and the pipelines.
Norman was so very proud of their two boys, Samuel and Mark. Norman loved to spend time with the boys. They always worked together building tractors, getting firewood, and projects around the home. They loved to get together as a family, going on vacations even if it was just for a day or two at their special getaway in Longview.
Family gatherings were always special times for Norman. He very much enjoyed getting together with family on holidays, when the whole family could come together. He had a love for horses and farm animals, and at one point he even leased a small farm. It was a great time for Norman and not so much for some of his family members.
Norman and Sandy have been members of the Church of the Nazarene for many years, first at the Hood River church and then transferring to the Parkdale church in 2002. Norman was an active member serving as a church board member until his passing.
Norman had suffered from health issues for the past 20 years, but the last few years saw a real decline in his health, and yet he fought hard to keep moving and being active.
On Tuesday, March 28, Norman was rushed to the Providence Hood River Memorial Hospital, where he passed away while in the company of his family.
Norman is survived by his wife Sandy, his sons Sam and Mark, and his sister Donna Wilson, as well as many cousins, nieces and nephews.
Services will be at 11 a.m. on Tuesday, April 4 at Anderson's Tribute Center. A reception will follow. Interment will be at Idlewilde Cemetery at 1:30 p.m.
Arrangements are under the direction of Anderson's Tribute Center (Funerals • Receptions • Cremations), 1401 Belmont Ave., Hood River. Visit www. AndersonsTributeCenter.com to leave a note of condolence for the family.
Memorial contributions in Norman's name may be made to the Providence Hood River Memorial Hospital, 810 12th St., P.O. Box 149, Hood River, OR 97031, or the Parkdale Church of the Nazarene, Fourth and Nuys Drive, Mt. Hood-Parkdale, OR 97041.

Services for Norman Patton
April 4, 2017

Memorial service: 11 a.m.
Anderson's Tribute Center
Burial: 1:30 p.m.
Idlewilde Cemetery