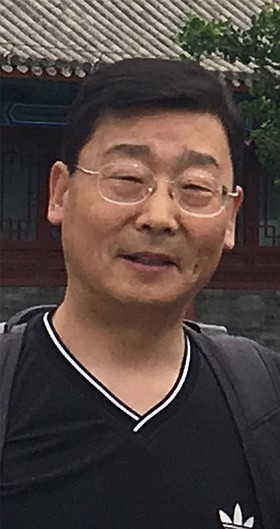 Yan Wang
December 22, 1965 - April 27, 2017
Yan Wang was born Dec. 22, 1965, and passed away on April 27, 2017. He was born in Rongcheng, Shandong, China, to Zuokai Wang and Wenmin Zhang. He grew up in Rongcheng, a coastal town, with his parents and older brother Jian Wang.
When Yan was just 16 years old, he moved from Rongcheng, to Taian Shandong to attend Shandong Agricultural University. Yan was very smart, which is why he entered the university at such a young age. It was during this time at Shandong Agricultural University where he met the love of his life, Caixia Li.
He graduated with a BS in Horticulture in 1986, the year he began dating Caixia. But his passion for Caixia did not hold back his academic pursuits, and later that year he moved to Hangzhou, in Zhejiang, where he attended Zhejiang University. His MS degree in horticulture was awarded from Zhejiang University, yet much of the work was performed in Beijing, at the Beijing Academy of Agricultural and Forest Sciences, where he lived and worked for several years. He graduated in July of 1989, and that same month was married to Caixia Li, although their wedding celebration was Oct. 1, 1989. In 1995, Yan was awarded a visiting scholar opportunity at the University of Georgia, and he then moved to Athens. Li followed him in 1996.
Probably the most eventful and happy year of his life was 2001. It was May of 2001, that the pride and joy of his heart was born, Sarah Wang. He was a doting and proud father. And then later that year, on Dec. 15, he received his Ph.D. in post-harvest physiology from the University of Georgia.
Yan's professional life was extremely impactful. He worked for nine years at JBT Food Tech, in Riverside, Calif., where his proficiency in post-harvest research flourished. Yet his career ambition was to one day be a professor at an American university, and so he left JBT to fill a tenure track professorial position at Oregon State University as a post-harvest research scientist.
As assistant professor in the Oregon State University Department of Horticulture, Yan led the post-harvest physiology research program at the Mid-Columbia Agricultural Research and Extension Center in Hood River, Ore. His work there focused on enhancing quality, storability, and marketability of pears and sweet cherries grown in the Mid-Columbia region of Oregon and the Pacific Northwest. His work had major impacts on the tree fruit industry through quality research directed at major problems encountered by packers and growers in the region. In recognition of his academic performance and significant contributions to the industry, Yan was to be promoted in July to Associate Professor of Horticulture with indefinite tenure, a very high professional achievement. He also played an important role in training the next generation of plant scientists by mentoring graduate students, postdoctoral scholars, and student interns. Yan was widely respected by his professional colleagues and liked by all due to his kind, thoughtful, and gentle nature.
He is survived by his wife, Caixia Li, daughter, Sarah Wang, his father, Zuokai Wang, his brother, Jian Wang and wife, Zongrong Hu, and their son, Meng Wang. He is preceded in death by his mother, Wenmin Zhang, who died in 1996.
Yan was a loving father, husband, brother, and son. He was a brilliant and hardworking scientist. He was a wonderful friend, and loved by many. He will be dearly missed.
Services are planned for noon on Wednesday, May 3 at Anderson's Tribute Center (Funerals • Receptions • Cremations), 1401 Belmont Ave., Hood River. A viewing will precede Yan's service from 9-11 a.m. Visit www.AndersonsTributeCenter.com to leave a note of condolence for the family.
Services for Yan Wang
May 3, 2017

Viewing: 9 a.m. to 11 a.m.
Anderson's Tribute Center
Memorial service: noon
Anderson's Tribute Center