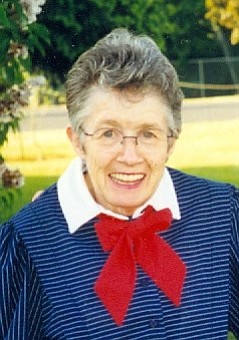 Doris Ann Kahler
Hood River, Ore.
April 10, 1928 - May 5, 2017
Doris Ann Kahler, 89, passed away on Friday, May 5, 2017, at her home in Hood River, Ore.
Doris was born April 10, 1928, to Raymond Harold and Isabel Bennet Patterson-Cole in Trout Lake, Wash., the sixth of nine children. She began an active lifestyle at an early age. When she was 12, she lived with a farm family and went to school while helping tend to children, cook, clean, do laundry, garden, and tend farm animals. In addition, she took part in many school and recreational activities.
Doris graduated from Trout Lake High School in 1946 and attended Whitworth College in Spokane, Wash., for two years before transferring to Washington State University in Pullman, Wash. She graduated with a B.S. in foods and nutrition in 1952.
On August 17, 1951, Doris and George Kahler were married in Colfax, Wash. They shared 59 years of marriage before George passed away. Three children were born to this union: James in 1952, Gregory in 1954 and Dorothy in 1958. James and Gregory both had muscular dystrophy. James died in 1967 and Gregory in 1976, from complications brought on by the disease. Gregory attended school through the ninth grade and then Doris home schooled him so he could finish high school. He was so proud to graduate from Hood River Valley High School. The family went on many vacations together. Dorothy now lives and works in The Dalles, Ore.
Doris worked as an instructional assistant in the science area at Hood River Valley High School from 1970-2004. In 1998, she was selected as Classified Employee of the Year for the school district, which led to her being selected as Classified Employee of the Year for the State. She was very active in the Oregon School Employees' Association. In February 2004, Doris was chosen by area representatives at the high school, for the "Making A Difference" Award.
Doris was a member of Hood River First Baptist (now Faith Bible Church). She served on the Great Commission Council, taught Sunday school, and led the Fidelis Missionary/Pastoral Supply Group for many years. She helped collect things needed by the missionaries, made items and got them ready to send out. Doris was also an associate chaplain for the nursing and retirement homes; she made many comfort items for the residents. She also enjoyed studying the Bible and sharing her faith.
Outside activities were essential to Doris' life. She enjoyed gardening, growing flowers and preserving produce for winter use. Many of these items were shared with family and friends. She loved RV-ing with George and their dog. They traveled frequently to the coast and to visit family and friends. Home activities included sewing, reading, baking, playing games, watching Jeopardy, listening to broadcasts of high school sports, starting garden plants from seeds and tending to house plants. She had an orchid in constant bloom!
Doris is survived by her daughter, Dorothy Lambert in The Dalles, Ore., her brother David in Goldendale, Wash., and her sisters Betty Schmid in Trout Lake and Alice Majak in Three Hills, Alberta, Canada. Preceding her in death were her husband George, sons James and Gregory, brothers Donald and Bob, sister Margaret, and infant brother and sister Harold and Lucille.
Doris also leaves behind many nieces and nephews; her dear friends Erma, Leonard and Lynetta Hickman, and good neighbors John and Jeannie Heitz and Mike Haley. These friends and neighbors, along with Dorothy's love and care, allowed her to continue to live at home on her own, with her dog Tiffany, a noisy, but sweet companion.
A memorial service will be held at Anderson's Tribute Center, 1401 Belmont Ave., Hood River, at 11 a.m. on Monday, May 15, with a reception to follow. She will be placed beside her husband and two sons. Interment will be at a later date at the Klickitat County Cemetery in White Salmon.
In lieu of flowers, please donate to a charity of your choice in Doris' name or to the Fidelis Missionary/Pastoral Supply Fund at Faith Bible Church, the Muscular Dystrophy Association or to the Chapter No. 9 Oregon School Employees Association scholarship fund. Please visit www. andersonstributecenter.com to leave a condolence for the family.
Services for Doris Ann Kahler
May 15, 2017

Memorial service: 11 a.m.
Anderson's Tribute Center, 1401 Belmont Ave., Hood River