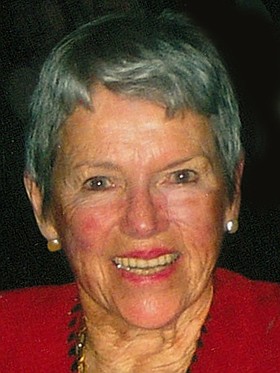 Eloise Stevenson
White Salmon, Wash.
August 1, 1925 - April 26, 2017
Eloise (Mulhausen) Stevenson passed away peacefully at home in White Salmon, Wash., on April 26, 2017, as her husband held her hand. She is survived by her husband, Rees Stevenson, and five children, Tom Stevenson, Amy Stevenson, Martha Stevenson, John (Nanette) Stevenson, and Dean (Kathy) Stevenson, 11 grandchildren and one great grandson. She was preceded in death by her youngest daughter, Angeline Stevenson.
Eloise was born on Aug. 1, 1925, in San Benito, Texas, to Grace (Stewart) and Roy Mulhausen. She was the second of three children. Her family moved to Portland, Ore., when Eloise was in grade school. She attended Jefferson High School, where she sang in the choir and, at age 15, met the love of her life under the clock in central hall. Rees loved taking his girl out for a drive and an ice cream cone — a tradition they continued until the last few weeks of her life. That same year, Eloise and her best friends served in the Motor Corps, driving trucks to transport veterans and blood, even though they only had learner permits.
Eloise joined the Kappa Alpha Theta house at the University of Oregon.
After graduation in 1946, she returned to Portland and taught history at Franklin High School. Not quite 5-feet, 2-inches, she wore glasses with clear lenses to distinguish herself from her students. After Eloise won her first ski race, Franklin's superintendent offered her the job of P. E. instructor.
In 1947, Rees and Eloise married. Of course, their honeymoon in Banff, Canada, involved skiing in August. Eloise didn't let marriage or children slow her down in life or on the slopes. Later, she was featured in The Oregonian with the headline, "Mother of Four Wins Golden Rose." She won another as mother of five. She continued to ski until she was 87.
At home, Eloise made time for knitting, crosswords, tennis, gardening, and bridge. Eloise was famous for her oatmeal cookies, chocolate brownies and peanut brittle. Her grandchildren all received "goodies" when away at college, and every week she set out cookies for the garbage collectors. In winter, Rees and Eloise skied Mount Bachelor and Mount Baldy.
In July, they walked the beach and grilled clams at Gearhart. Together, they explored the world by boat (Galapagos), train (Scotland), automobile (German Alps to Rome), rickshaw (China) and mule (High Sierras).
A celebration of Eloise's life is scheduled for Tuesday, May 16, 2017, at 2 p.m. The event will take place at the Best Western Plus Hood River Inn, The Gorge Room, 1108 E. Marina Dr., Hood River, Ore.
Services for Eloise Stevenson
May 16, 2017

Celebration of Life: 2 p.m.
Best Western Plus Hood River Inn, The Gorge Room, 1108 E. Marina Dr., Hood River, Ore.