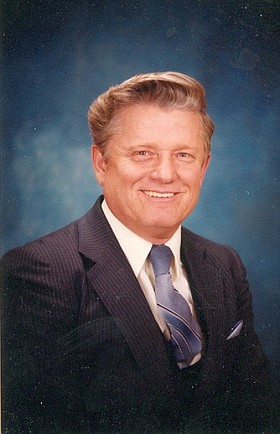 Thomas "Tom" Ford
March 29, 1939 - May 17, 2017
Thomas "Tom" Ford went to be with his Lord on May 17, 2017, at the age of 78. Tom had fought a long battle with heart disease and was able to be at home with his wife and son by his side.
Tom was born in Wynne, Ark., on March 29, 1939, to Thomas Sr. and Artie Ford. The family moved to Memphis, Tenn., when he was a young boy. While attending Treadwill High School, Tom was introduced to Brenda McGarrh on a blind date. The two were inseparable and married very young … he was 16 years old and she was 14 years old. They were married on Jan. 7, 1956, had 61 beautiful years together and four children: Rusty, Vicky, Belinda and Sonja.
Tom joined the Air Force right after he and Brenda were married. He then spent the rest of his working life in the union as a steamfitter. He retired in 1999 from the University of Washington after 20 years of service.
Tom came to his Lord in 1976 and devoted his life to God and spreading His word to everyone he met.
In 1978, he and Brenda moved to Washington, where he attended Bible College and was on staff in the evangelism department at Overlake Christian Church. He later became an Elder at Christ Church in Federal Way, Wash.
After thinking their family was raised, Tom and Brenda were blessed with raising one of their grandchildren. At the same time, they were given the gift of John, a special needs foster child, whom they raised until his death at age 6. Tom stated many times that having John taught him about "unconditional love."
Tom's passion was fishing … when not spending time in service to the Lord or with family. He would fish anytime, anywhere. Even if there was just a puddle, he would drop a line. After Tom's retirement, he and Brenda moved to Oregon in 2004.
Tom was preceded in death by his parents, Tom Sr. and Artie, his sister Ginger, and daughters Belinda and Sonja. He is survived by his wife Brenda, son Rusty (his wife Elaine), and daughter Vicky (her husband Gary), grandchildren Chip Willis, Shane Willis (wife Shannon), Joe Ford, Candice Ramirez (husband Matt), Rustin Ford, Austin Hacker (wife Brittany), Kristin Ford and Tommy Pyron, and great grandchildren Alexandra Willis, Aiden Willis, Kyrie Hacker, Ellianna Ramirez and Kiylah Ramirez.
Services will be held at 2 p.m. on Saturday, May 27, 2017, at Anderson's Tribute Center, 1401 Belmont Ave., Hood River. A reception will follow and interment will be at Pine Grove Cemetery, 2687 Van Horn Drive, Hood River. Please visit www. AndersonsTributeCenter.com to leave a note of condolence for the family.

Services for Thomas Ford
May 27, 2017

Memorial service: 2 p.m.
Anderson's Tribute Center, 1401 Belmont Ave., Hood River.