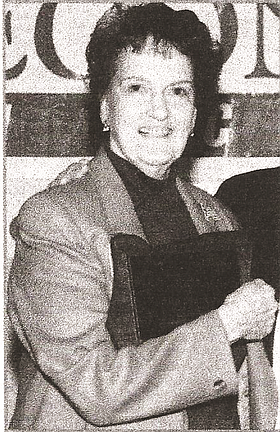 Rita Swyers
Hood River, Ore.
September 26, 1925 - September 26, 2017
Rita Swyers passed away surrounded by her family on her 92nd birthday, Sept. 26, 2017. Rita was born in Grass Valley, Ore., on Sept. 26, 1925. She moved to The Dalles, Ore., to attend St. Mary's High School, and then to Corvallis to attend Oregon State. There she met and married CJ Kulick. Rita was a stay at home mother during her first marriage and entered the work world when she was divorced. She was a single mother for 10 years, working to support her four children. She progressed from selling cosmetics door to door to becoming a receptionist, then an executive secretary, and then a director of government programs. She met and married Wes Swyers of Hood River, Ore. Wes adopted her four children.
When she moved to Hood River, she recognized needs in the community the government programs were not meeting. So she quit her government job and started the Migrant and Indian Coalition to provide child and health care for migrant workers and Native Americans.
Rita loved her country and freedom. She became active in politics and ran for the House of Representatives twice. She retired and devoted her time to the Republican Party and Oregonians in Action, a nonprofit organization devoted to maintaining individual property rights. She took up and became an accomplished painter. Rita loved to play cards and was an extremely competitive player. She was very social and loved putting on large family functions. She was the Queen of Christmas, making it an unbelievable holiday.
She was preceded in death by her daughter Jane Marie, her parents, her brothers Donald, Carl and George von Borstel and her sisters Cassie DeCourcey and Marie Hattrup. She is survived by CJ's four children, Joanne, Cassie, Ted and Mark Swyers, and by Wes' four children, Fritz, Skip, Mick and Russ Swyers.
There will be a private family-only memorial at St. Peter's Parish Center, 1222 W 10th St., The Dalles, on Oct. 14 at noon. An open memorial for friends and community will be held on Oct. 15 at The Elks Lodge, 304 Cascade Ave., Hood River, from 1-4 p.m. This memorial is a potluck. Please bring a dish to share and join us in remembering Rita.
Donations in Rita's memory may be made to Oregonians in Action, PO Box to 230637, Tigard, OR 97281.
Services for Rita Swyers
October 15, 2017

Memorial service: 1 p.m. to 4 p.m.
Elks Lodge, 304 Cascade Ave., Hood River