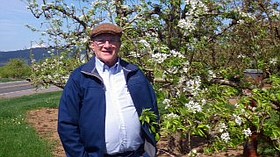 Joseph "Jerry" J. Giarraputo
February 20, 1943 - August 24, 2017
Joseph J. (Jerry) Giarraputo was taken from those he loved on Aug. 24, 2017.
Born Feb. 20, 1943, in Brooklyn, N.Y., he was the oldest son of the late Julian and Anne (Humphrey) Giarraputo. Jerry graduated with a BA in philosophy from Kenyon College in 1965. Just prior to graduation, he travelled extensively throughout Europe and northern Africa, and the highlight of his early travel was an overland journey from East Germany to Moscow during the height of the Cold War.
After graduation, he worked for station WOR AM in New York City for 25 years as an engineer, cameraman, and production manager, meeting such notable celebrities as Brooke Shields and Larry King. He also worked for the Metropolitan Opera and the New York Mets and Jets, although he was a die-hard Yankees and Giants fan.
While in the New York area, Jerry became an accomplished sailor and could be seen frequently sailing his 22-foot Columbia, the Pequod, on Long Island Sound. He left the broadcasting world to pursue a life-long ambition to be a chef. He was a gifted chef, working at various hotels and private venues from Maine to Florida. His favorite work as a chef was working with his sister Cindy and his brother-in-law, John Farrell at the Peacham Inn in Vermont. Jerry finally settled at the Seton Hall Preparatory School in Orange, N.J., as head of food service, where he remained for 15 years until retiring.
After retiring from food service, Jerry moved to Hood River, Ore., to be near his daughter, Holli. Holli was his source of strength and his true joy in life. Besides Holli, Jerry's other passions were cooking and photography. He loved to travel extensively all over the United States, photographing nature, social events, and his most favorite subject, his family. A prolific letter-writer, Jerry was frequently published in the Hood River News commenting on a variety of topics.
Jerry was a kind, generous, and gentle man who will be missed by everyone whose life he touched. He is survived by the person he loved the most, his daughter Holli Giarraputo Francis; two sisters, Valerie McStine (Great Falls, Va.) and Cindy Farrell (Hamilton, Mass.); four brothers, Warren (Hamburg, Germany), Randolph (Cordes, France), Christopher (Astoria, Queens, N.Y.), and Jeffrey (Stony Brook, N.Y.). Jerry also had nine nieces and nephews, who loved him dearly.
There will be a private ceremony for family and close friends where his ashes will be spread across Long Island Sound, where Jerry loved to sail.