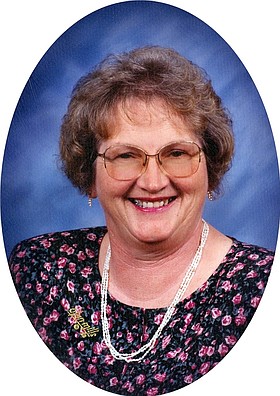 Katherine "Kathy" Elaine McNerney
Parkdale, Ore.
May 20, 1941 - August 31, 2017
Katherine "Kathy" Elaine McNerney of Parkdale, Ore., passed away Aug. 31, 2017, at Vibra Specialty Hospital in Portland, Ore. Kathy was born at Hood River Hospital on May 20, 1941, to Eugene and Elizabeth (Sturges) Wright.
Kathy's childhood home was the Wright Dairy Farm, currently the site of the Hood River County Airport. As a young girl, Kathy was active in 4-H with her Jersey dairy cows, sewing and cooking. She especially liked attending the Oregon State Fair. Growing up on the Wright Dairy, Kathy was always involved with her dad and sisters on the farm. Bobi helped with the milking and Kathy and Margaret did the bottling.
Kathy graduated from Wy'east High School in 1959 and attended Oregon State University until her studies were interrupted by a young sailor named Steen McNerney. On July 16, 1960, they married in Hood River, Ore. She followed her husband to Providence, R.I., where he was stationed in the U.S. Navy. She worked in a hardware store while there. Upon returning to Hood River, Kathy went to work for United Telephone. She then went on to work in timber for the U.S. Forest Service in Parkdale. She finished up her "full-time" employment at Hanel Lumber Company in Odell, Ore. Once she was "retired," she continued to help Steen with the books for their Parkdale pear and cherry orchard. She also sold real estate for a short while. In 2002, she covered the office duties for Chamberlin Distributing as the new agricultural chemical company started in Hood River Valley. Kathy was on the Hood River County Planning Commission and was a board member of the Diamond Fruit Credit Union.
Once Kathy and Steen were married, her main love was family and all things associated with her kids and grandkids. From the time her oldest son, Joel, started sports at Parkdale Elementary in 1972 till the youngest grandchild, Mallory, started just a few years ago, Kathy was always on the sidelines keeping stats and cheering the teams on. Kathy also enjoyed playing cards with her long-time group of friends.
Kathy is survived by her spouse of 57 years, Steen McNerney; three sons, Joel (Tammy) McNerney, Jeff (Cassandra) McNerney, and Kevin (Jennifer) McNerney; grandchildren Michael, Josh, Ashley, Eric, Hannah, Kaitlyn and Mallory; sisters Barbara "Bobi" Jones and Margaret Strasser; and her beloved dog "Tonka."
Kathy was preceded in death by her parents, Eugene and Elizabeth Wright.
Services are planned for 2 p.m. on Saturday, Sept. 9 at Parkdale Community Church, 4910 Baseline Drive, Mt. Hood, with a reception immediately following. A viewing will be held on Friday, Sept. 8 from 4-6 p.m. at Anderson's Tribute Center.
Donations in memory of Kathy may be made to Parkdale Community Church, PO Box 37, Parkdale, OR 97041. Donations in memory of Kathy can also be made to the American Diabetes Association, P.O. Box 15829, Arlington, VA 22215.
Arrangements are under the direction of Anderson's Tribute Center (Funerals • Receptions • Cremations), 1401 Belmont Ave., Hood River. Visit www.AndersonsTrib-uteCenter.com to leave a note of condolence for the family.
Services for Katherine Elaine McNerney
September 9, 2017

Memorial service: 2 p.m.
Parkdale Community Church