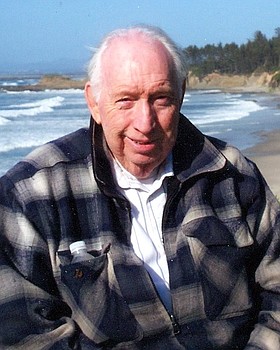 Robert Norman Frizzell
August 12, 1936 - August 31, 2017
Robert Norman Frizzell was born Aug. 12, 1936, in Keystone, Calif., now renamed Carson, Calif., a suburb of Los Angeles. He was the seventh child of George Dewey and Myrtle (Scott) Frizzell. He attended the Gardena schools, graduating from Gardena High in January 1955. He immediately joined the U.S. Navy and served for four years. He has fond memories of his time and buddies aboard the USS St. Paul CA 73.
In 1959, he married Caroline Rose Tidball. They were blessed with four boys and one girl. They were divorced in 1971.
Norman married Linda Stoddard in July 1973. In 1974, they bought their first home in San Pedro, Calif., where they lived for the next 26 years.
Norman worked for Pacific Bell Telephone Company as an installer. He was given Terminal Island as his territory and enjoyed working there, taking care of the Navy's and other businesses' phone needs, including the canneries. During his lunch time, he would beach comb, finding parts of ships, port holes, decking and brass nails that he cleaned up and kept. His nautical collection was quite extensive.
In 1980, his first wife and the children moved to Washington. Many trips were made to see the children and a love of the Northwest grew. In 1983, Norman and Linda bought five acres in Mt. Hood, Ore., and waited for retirement to make it their new home.
In 1990, Norman retired from the phone company after 28 and a half years. He had some medical problems and it was a good time to retire.
In 2000, they sold their San Pedro home and served a one year mission for the Church of Jesus Christ of Latter-day Saints in Little Rock, Ark. There he found he had a chronic lung condition and was told there was a 60 percent chance he would die in five years. He beat that prediction by 12 years.
He and Linda moved to Oregon May 1, 2001. They put a triple-wide manufactured home on the property, saying it was the best home they had ever lived in. They loved the rural life and the talent in the Hood River Valley, attending many high school and other productions.
Norman didn't like the winters in Mt. Hood, especially the snow, but he knew they made the spring, summer and fall seasons so beautiful, so he endured them. He always said, "In winter you'll find me surfing in Hawaii." But he never learned how to surf.
His prayers always ended, "Help us do what we need to do and do it with honor." Norman truly did what he needed to do, and did it with honor.
A special thank you to the Hospice sweethearts, Marti and Crystal, for their kindness and love to both Norman and Linda.
He is survived by his wife, Linda of Mt. Hood, children Steven (Mary) Frizzell, of Spokane, Wash., Robert Frizzell of Shelton, Wash., David Frizzell of Shoreline, Wash., Laurie Hatch (Dan) of Milton, Wash., and Gary (Brandee) Frizzell of Spokane Valley, Wash., grandchildren Tim (Ashley) Frizzell, Stephenie Frizzell, Derek (Carly) Frizzell, Rebekah Frizzell, Daniel Frizzell, and Christopher (Briana) Cheema and Autumn Reeves, and great-grandchildren Lila Mae, Quinn, Gracelyn, Hunter, Dominic and Sebastian Frizzell and Zaidon Cheema.
Services are planned for 11 a.m. on Saturday, Sept. 9 at The Church of Jesus Christ of Latter-day Saints, 1825 May St., Hood River. Arrangements are under the direction of Anderson's Tribute Center (Funerals • Receptions • Cremations), 1401 Belmont Ave., Hood River. Visit www.Ander-sonsTributeCenter.com to leave a note of condolence for the family.
Services for Robert Norman Frizzell
September 9, 2017

Memorial service: 11 a.m.
The Church of Jesus Christ of Latter-day Saints