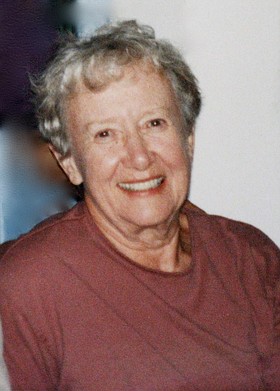 Margie Adele Palmerton Newman
Medford, Ore.
March 12, 1927 - August 25, 2017
Margie Adele Palmerton Newman, age 90, formerly of Klamath Falls, Ore., and Sheridan, Wyo., passed away in Medford, Ore., Friday, Aug. 25, 2017, at Farmington Square Memory Care Center.
Margie was born March 12, 1927, to Loren and Edith Palmerton at her grandparents' home in Kearney, Neb. Four months later they travelled back to their home in Loyalton, Calif.
In 1930, the family moved to Klamath Falls. Margie and her sister, Nadine, attended Riverside School. In 1936, Loren Palmerton's work in the lumber business took the family to California — from a lumber camp and one-room schoolhouse to residential Los Angeles. They finally settled back down in Klamath Falls in 1940, and Margie finished the eighth grade at Riverside School.
After graduating from Klamath Union High School, Margie attended the University of California at Berkeley and graduated in January 1948 with a BA in art.
In June 1948, Margie married Richard Newman, whom she had met during her junior year at Klamath Union. They moved from Klamath Falls to Seattle shortly afterwards. Richard worked for Boeing, and daughter Laura was born there in December 1949.
In 1950 the family moved back to Klamath Falls, where Richard worked for Columbia Plywood. Son David was born in 1951, son Bob in 1954, and son Tom in 1957.
Margie pursued her art while being a great stay-at-home mom. She taught various art classes associated with the Klamath Art Association from 1967 to 1972. In 1970, the family moved again, this time to Hood River, Ore., where Richard managed a lumber mill. From 1972 to 1974, Margie taught Sumi-e classes at Hood River Arts and Crafts Society and served as a member of the Hood River parks board. In 1975, they moved to Sheridan. Richard managed a lumber mill there until his retirement in 1992, and Margie taught art classes and displayed her art. In 1999, she was the artist in residence for the Sheridan County Schools/Sheridan Arts Council. She instructed Sumi-e and watercolor courses at Sheridan College off and on from 1981 to 1994. From 1979 to 1984, she was the manager and curator of the Sheridan Inn Art Gallery.
In addition to being a member of the Sumi-e Society of America, Margie exhibited her Sumi-e art in Oregon, Montana, South Dakota, California, Maryland, Utah, New York, and at various venues in Wyoming, including the Nicolaysen Art Museum in Casper.
Margie was a member of PEO in Klamath Falls, Hood River and Sheridan. She was a past president and member emeritus.
Margie is survived by husband Richard, Meridian, Idaho; sister-in-law Ann Allen, Richmond, Va.; daughter Laura Schuh (Dwight), Nampa, Idaho; son David Newman (Marjorie), Portland, Ore.; son Bob Newman (Kathy), Napa, Calif.; son Tom Newman (Deb), Jacksonville, Ore.; granddaughters Emily Berriochoa and Margie Schuh; grandsons Loren Newman, Tyler Newman, and Jeffrey Newman; great-grandchildren Dieter and Margie Ann Berriochoa and Josephine Schuh Hesel; nieces Lisa Hanks Baxter and Janet Hanks Sheldon; and nephews Greg and Jeff Allen, Chuck Hanks, and Mike, Pat, Colin and Bruce Sawyer.
She was preceded in death by her parents, Loren and Edith Palmerton, sister and brother-in-law Nadine and VM Hanks, sister-in-law Kathy Sawyer, and niece Penny Hanks Hooper.
There will be a memorial service for Margie at St. Peter's Episcopal Church, 1 S. Tschirgi St., Sheridan, on Monday, Sept. 11 at 11 a.m. In honor of Margie, contributions can be made to Sage Community Arts, 21 W. Brundage St., Sheridan, WY 82801.
Services for Margie Adele Palmerton Newman
September 11, 2017

Memorial service: 11 a.m.
St. Peter's Episcopal Church, 1 S. Tschirgi St., Sheridan, Wyo.