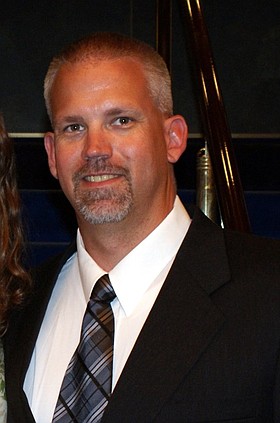 Michael "Mike" Wayne Anderson
Hood River, Ore.
July 28, 1971 - August 25, 2017
Michael "Mike" Wayne Anderson died Aug. 25, 2017, in Hood River, Ore. He was 46 years old at the time of his passing.
Mike was born on July 28, 1971, in Hood River, Ore., to Jan and Leslie (Dinsmoor) Anderson. He was the fourth-generation of his family born in Hood River and has an older sister, Danelle. As a child, Mike enjoyed the outdoors, especially hunting and fishing. He attended Hood River Valley High School, played many sports and was involved in auto and wood shop. He also helped build houses and was a member of the OSSOM club.
Mike's dedication to serving his community began at the age of 16, when he became a student firefighter with the Hood River Fire Department. He became an EMT in his senior year. Right after graduation from high school, he chose to serve his country and joined the U.S. Air Force. He spent the next seven years serving in the Air Force as an ear, nose, and throat technician at military hospitals. During this time his daughter, Andrea, was born while he was stationed in Albuquerque, N.M. She was his pride and joy and lit up his life. His time in the military were the only years that he spent living away from Hood River and after that, he was looking forward to returning to his home. A short time later, he returned to Hood River in 2000, where he continued serving his community as a reserve deputy for the Hood River County Sheriff's Office. He also joined the West Side Fire Department as a volunteer firefighter and assistant coordinator for the student firefighter program for the Hood River Valley.
Mike served as a reserve deputy for six years. During that time, he obtained certification as a marine deputy and worked full time in the summer doing marine patrol. He spent the rest of his year working at the Hood River Valley High School, while spending weekends and evenings on patrol. During these years, Mike also moved his grandmother to Hood River from Bend to take care of her in her last few years. Mike met his wife, Heidi Dragoo, a 911 Dispatcher, when she was hired in 2005. Two years later, Mike got his dream job and was hired as the full time marine deputy in March 2007. Mike and Heidi were then married on his family's Hood River property on June 23. Mike worked marine patrol for many years and later switched to road patrol. He was a search and rescue coordinator as well as TASER, FST, and marine instructor. Law enforcement was his passion and he has helped countless people during the last 17 years.
In 2012, Mike and Heidi had a son, Chase, who is now 5-years-old and had a special bond with his Daddy. He also has a granddaughter, Olivia. Mike loved spending time with his children.
Mike has spent his life giving to others — to his country, his community, and his family. He will be deeply missed by all who knew him.
Mike is survived by his wife, Heidi Anderson; daughter Andrea Anderson; son Chase; granddaughter Olivia; parents Reed and Leslie Melby; sister, Danelle (Phil) Frank; nieces Erin and Amy; cousin Brian Rockett and his children Dean, Troy, and Chaz; uncles Larry Dinsmoor, Edwin Anderson; and aunt Kay (Ed) Simon. He was preceded in death by his father, Jan Anderson, in 1979, and his uncle David Dinsmoor in 2017.
Donations to honor Mike can be made at any U.S. Bank branch to the "Hood River County Search and Rescue Fund" or the Oregon Fallen Badge Foundation by going to www. oregonfallenbadge.com.
A memorial service for Mike will be held at a later date at Hood River Valley High School, 1220 Indian Creek Road, Hood River, at 1:30 p.m. There will be a law enforcement procession prior to the ceremony beginning at the waterfront event site and ending at the high school. Details regarding the procession and memorial were in a separate Hood River Sheriff's Office press release.
Arrangements are under the direction of Anderson's Tribute Center (Funerals • Receptions • Cremations), 1401 Belmont Ave., Hood River. Visit www. AndersonsTributeCenter.com to leave a note of condolence for the family.