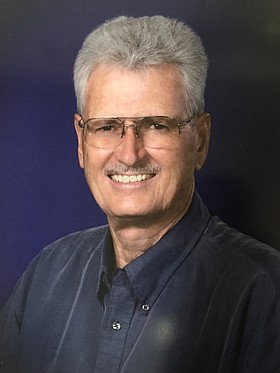 Charles "Chuck" Edward Hiatt
Hood River, Ore.
September 5, 1941 - September 16, 2017
Charles Edward Hiatt was born Sept. 5, 1941, in Kalispell, Mont., to Lee and Minnie Hiatt. At the age of 2, they moved to Weiser, Idaho, then on to Pendleton, Ore., when he was 5. His father, Lee, worked for Montgomery Ward and was transferred once again, this time to Spokane, Wash.
When Chuck was in elementary school, he played the violin in the all city orchestra, then switched to the trombone in high school. To get to the high school each day, he rode the city bus, carrying his trombone, tennis racquet and books. The North Central High School band was all male, with girls making up the drill team. There were more than 200 students in this marching wonder. Chuck also played on the North Central tennis team. HE graduated from North Central High School in 1959.
Chuck had an interest in baseball and would attend the Spokane Indians baseball games and watched Maury Wills play. They were part of the Dodgers organization, so when son Chris started working for the Dodgers in 1999, Chuck was very excited and had the opportunity to meet and talk with Maury about his first years in the Dodgers organization.
At Eastern Washington State College, Chuck played tennis and was an Evergreen Conference champion. As a junior, he won the match that took their team to nationals, but he didn't get to go because he had separated his shoulder in a wrestling class.
Following college graduation, Chuck was hired by Monterey School District to teach physical education and typing in a junior high school in Marina. During his first year, he was part of the planning committee for a new junior high school in Marina that opened in 1966. Chuck also coached basketball, wrestling, gymnastics, soccer and golf. They had a junior high league for golf, where they played at Pebble Beach and Spyglass. He enjoyed learning the game, along with his students.
In April of 1966, he met the love of his life, Judy, who taught nearby in Salinas. They were married June 17, 1967, by the minister who'd baptized Judy in 1944. Part of their honeymoon included Disneyland and a Dodgers game. Then they headed north to Diamond Lake near Spokane where Chuck ran the waterfront for the Boy Scout Camp Cowels. At least once a week, he would sail across the lake with Judy for hot fudge sundaes at a small café. At scout camp, Chuck was tapped out for Order of the Arrow, so when they returned to Monterey, Chuck volunteered to do camp promotions for the Monterey Council. He also had to go to an Ordeal in the hills east of Big Sur and live off the land for 24 hours.
They returned to Marina for another year of beautiful weather and their teaching jobs. When winter rolled around and it was still 70 degrees, Chuck said it was too much. He wanted four seasons, so he began to search for a job in the northwest and contacted Eastern Washington's career center, and they started sending lists of jobs. In the meantime, Chris was born in Carmel Hospital in 1970. He brought joy to Chuck's life. Chuck refereed basketball games for the high schools in the area and Chris, in his infant seat, would fall asleep during the most exciting and loudest times in the games.
In 1973, Chuck applied for three jobs in the northwest, so he headed north with the family to interview in three places over Memorial Day weekend. They camped at Viento State Park, and Chuck went in for his interview in Hood River. After visiting the three places, Chuck hoped to hear back from Hood River. Jack Jenson called with a job offer the day after they returned home. Chuck was so happy that he would be able to have snow in the winter.
They were able to sell their house, pack a U-Haul and head north. Chris was left in Prineville with Chuck's cousin. They arrived in Hood River on Aug. 3 and found a room at the Vagabond Inn. Then they went to Don Nunamaker's office in downtown Hood River, where they talked to Mel Taylor and Dick Radcliff. They had already gone through the paper for rentals, and there wasn't much available or the ad said no pets or no children. They had a dog and a boy, so buying seemed the only option. Chuck wasn't willing to give up Chris or Snoopy.
Within a week, they were able to buy the house at 1850 12th Street, behind the Ranch. Bob Level got the coaches together and they helped Chuck empty the U-Haul and get everything into their new home.
Chuck went to work at Hood River Junior High, where he taught typing and personal finance, ran the student store and coached football. In the student store, the yard-long red ropes weren't selling at 15 cents each, so he had the students cut them in half and sell them for 10 cents each. While teaching at HRJH, Jon was born in 1974 at Hood River Memorial.
After five years, he moved to the high school to teach typing, keyboarding, personal finance, business apps and web page design, while coaching tennis, boys' and girls' basketball and volleyball.
Chuck spent many years as a scouter at the local and district levels. He went to Philmont four times, gaining skills to teach other adults when he returned home. He enjoyed the boys' troop outings, especially canoeing the Snake River and rafting the Salmon River. He found pleasure at summer camp with the troop and would have training sessions for adults while the boys were in class.
Chuck retired from teaching in 2003, but continued to assist in coaching basketball and tennis. In 2008, when Judy had the opportunity to attend a conference in Southern California, Chuck made the reservations for RV parks and they hit the road. Following the conference, they went to Oceanside, Calif., to see family, and then to Phoenix, Ariz., where they watched spring training games, including the opening of the new Dodgers spring training complex. They enjoyed the experience so much that the trip south to Arizona became a part of the yearly schedule.
Throughout their life together, Chuck and Judy enjoyed camping and being out in nature. At first, it was in a small tent, then a larger tent. As it became more difficult to sleep on the hard ground, they bought a tent trailer and enjoyed Wallowa Lake, the coast and many other places. However, after coming home from the coast where it was foggy and damp, it was hard to put the trailer away wet, so Chuck decided a small trailer would be good. It worked well, but it wasn't quite large enough to spend lots of time inside when it was raining, so a longer trailer was purchased and enjoyed. Then, in 2011, at the fall RV show in Portland, they stepped into a motor home and purchased it. Life was easier on the road as they traveled far and wide, enjoying their Good Sam friends and returning to Glacier National Park yearly.
On Jan. 27, 2017, Chuck collapsed in his cardiologist's office following his appointment. Dr. MacAnulty tried to bring him to, but couldn't, and the paramedics were called. Chuck was in Good Samaritan Hospital with a large cadre of doctors there, at OHSU, and the Mayo Clinic to figure out this problem. They finally agreed that Chuck had an auto-immune disease that had destroyed his nerves, and thus his muscles. Chuck never gave up. He read and questioned. He enjoyed visits from family and friends. He would light up and smile when they would walk in his room, and he always wanted to shake their hand when they left.
Chuck's lungs became stronger while at Vibra, so he moved to Pacific Specialty Rehab in Vancouver, where his occupational therapist coached him to walk and exercise. He became stronger and muscles returned, but pneumonia took him down. He was put in PeaceHealth Hospital Sept. 2 and passed away Saturday, Sept. 16 with his wife, sons, cousin and niece at his bedside.
Chuck is survived by his wife of 50 years, Judy, his sons Chris and Jon, daughters-in-law Joanna and Heidi, his grandchildren Nathan, Cecilia and Adam, his sister-in-law Jana and her husband Donald, cousin Denny and his wife Cathy, along with their children Steve and Jennifer, and many other relatives.
Memorials can be made in Chuck's name to Boy Scouts of America, Cascade Pacific Council Memorial/Chuck Hiatt, 2145 SW Naito Parkway, Portland, OR 97201 (on memo line, note Chuck Hiatt memorial), or Hood River Valley Christian Church, 975 Indian Creek Road, Hood River, OR 97031 (on memo line, note Hiatt memorial). Arrangements are under the direction of Anderson's Tribute Center, 1401 Belmont Ave., Hood River. Visit www.AndersonsTributeCenter.com to leave a note of condolence for the family.