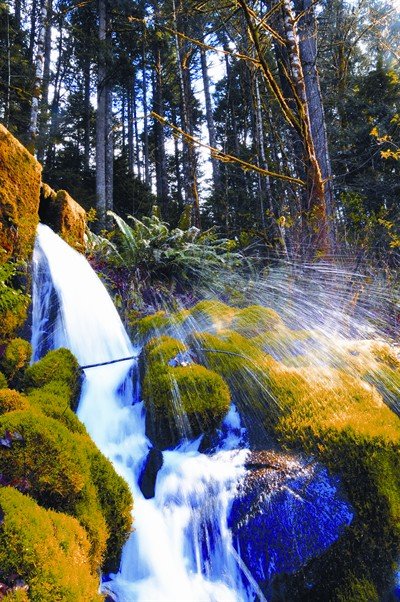 Oxbow Springs cascades from the basalt cliffs above Cascade Locks and now stands at the crux between a community's need for jobs and wider concerns on the use of publically owned Oregon Department of Fish and Wildlife spring water. Nestle' is negotiating with city leaders for a bottling plant which would share spring and city well water resources for its operations.
Stories this photo appears in:

Water bottling debate boils as May 17 voter measure approaches
Voices ring louder from citizen groups as an anti-water bottling measure approaches voters.

Oregon Gov. Kate Brown has intervened on the cross water rights transfer that would make possible Nestlé's proposed water bottling plant in Cascade Locks.

State agency says Nestlé opponents' chief argument is 'without merit'
Nestlé's proposed water bottling plant in Cascade Locks may still be years away, but last week a state ruling helped Nestlé over one of multiple legal hurdles it must clear before the 250,000-square-foot plant can be built.

For its first monthly meeting in its new headquarters in Salem, the Oregon Fish and Wildlife Commission christened its new digs by hearing pro and con testimony regarding a proposal to build a Nestlé water bottling plant in the city of Cascade Locks.
April 14, 2012 Committee agress public education is key priority
April 14, 2012 Committee agress public education is key priority