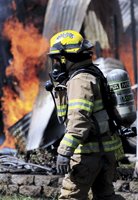 SCENES OF DESTRUCTION and dedicated firefighters juxtaposed one another during the Aug. 27 fire at 3099 Eliot Dr. in Hood River. West Side Fire Department volunteers were assisted by crews from Hood River and Odell to stop a blaze that burned through a garage, two vehicles and a modular home. No one was hurt and the fire was contained to one property. A teen, two dogs and a hamster made it to safety during the 2 p.m. inferno.
Stories this photo appears in:

Nobody injured in Monday afternoon Eliot Drive blaze
A giant cloud of billowing, black smoke sent residents to their phones on Monday afternoon as fire blazed through two structures and two vehicles at 3099 Eliot Road.