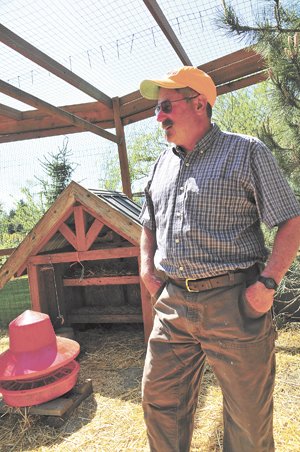 THE BIRD MAN of Hood River, Ted James, has turned his retirement into an experiment in how to build community. One of his projects involves sharing his love of poultry-husbandry by giving away turkeys each year and encouraging his recipients to donate to local charities in return. James' farm is one of the featured stops on the annual Tour de Coop and houses poultry species from many countries – including African Cranes, Asian pheasants and a plethora of exotic chicken breeds.
Stories this photo appears in:

Hood River man translates turkeys into treasure for local charities
If you've gone on the annual "Tour de Coop" in which dozens of local poultry enthusiasts show off their fowl farms each summer, then you may already know about Ted James and his bird farm. What you may not know is that James has turned his poultry passtime into something that benefits the community.