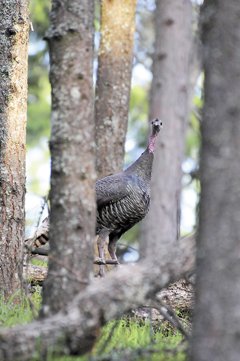 WORRIED AND WARY, this native wild turkey, whose wide-eyed gaze perhaps implies awareness of the upcoming holiday and the central role she might take, was photographed on the eastside of Hood River off of Old Dalles Road. Some of her domesticated cousins will soon be part of Ted James' annual fundraiser project. James raises and processes turkeys each year to give away. He hopes his turkey recipients will then pass along the "thanksgiving" by making cash donations to local charities.
Stories this photo appears in:

Hood River man translates turkeys into treasure for local charities
If you've gone on the annual "Tour de Coop" in which dozens of local poultry enthusiasts show off their fowl farms each summer, then you may already know about Ted James and his bird farm. What you may not know is that James has turned his poultry passtime into something that benefits the community.