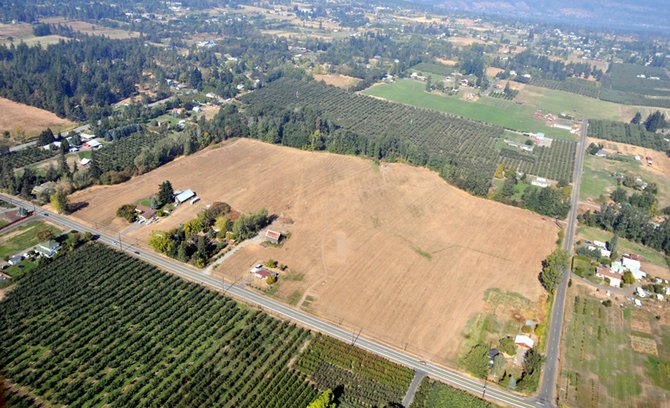 31.4-acre Barrett Park, if completed, would include open playfields, space for radio-controlled flyer areas, a mountain bike skill development area, picnic shelters and trailheads for the Indian Creek trail.
Stories this photo appears in:

Land use watchdogs appeal RC flyer decision, ask state to pull park grant
Barrett Park has been the source of much controversy over the past two years and now, once again, finds itself embroiled in not one, but two new disputes over land use issues.

Commissioners vote 4-1 to deny permit for controversial park
Hood River County Commissioners voted 4-1 Monday night before an audience of 25 people to once again deny a conditional use permit for Barrett Park.

Hood River County Commissioners will deliberate and render a decision Monday night on whether or not the controversial Barrett Park planned for the west side of Hood River can be developed.

The Hood River County Board of Commissioners has set Monday, Dec. 2 as the date it will hold a public meeting to make a final decision on Barrett Park.

Parks and Rec appealing County Commission's decision to LUBA
The Hood River Valley Parks and Recreation district asserts that it is within its right to build a park on high-value farmland in Hood River County and is now taking that fight to the next level.