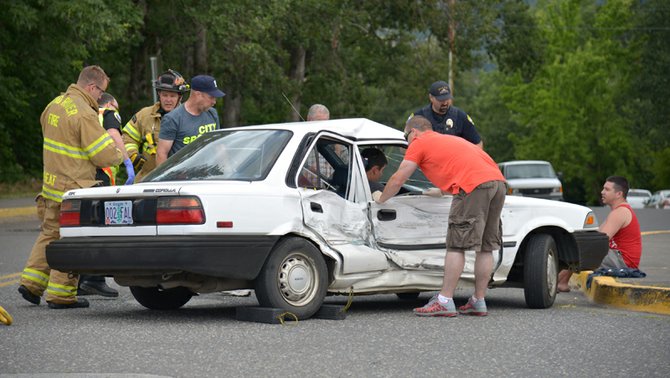 At the intersection of Cascade Avenue and 20th Street, three cars were involved in an accident June 11 when Samuel Nakamura, driver of a 1990 Toyota Corolla, attempted a left-hand turn from the eastbound lane of Cascade onto 20th Street, near the Subway deli. Emergency responders assisted two of Nakamura's passengers who were injured when another vehicle struck his vehicle's side as it traveled westbound on Cascade. A third vehicle, waiting at the adjacent stop sign, received minor damage.
Stories this photo appears in:

At about 12:50 p.m. June 11, a crowd quickly gathered on Cascade Avenue at 20th Street after hearing the sounds of breaking glass and crunching metal. A three-vehicle crash at the site sent two Hood River men to the hospital — one to Providence Hood River Memorial Hospital and one, via LifeFlight, to Portland.