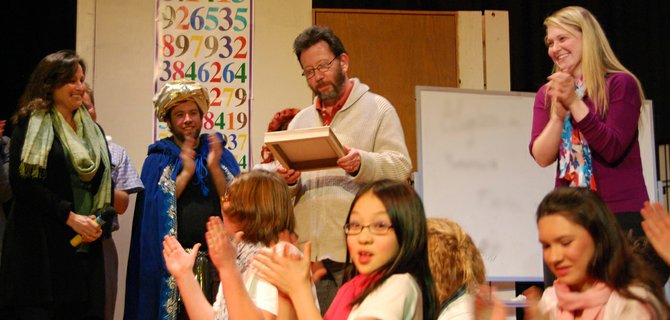 Musical heights: HRV Music Director Mark Steighner (center) was recently presented with the newly minted "Steighner Arts Education Award" created in his honor. The award will also be presented to future recipients who, like Steighner, dedicate their lives to excellence in arts and education. Shelley Toon-Hight (left) of Columbia Gorge Arts in Education presented the award along with music teacher Rebecca Nederhiser (right), and (not pictured) HRV Principal Karen Neitzel and HRMS Principal Brent Emmons. They are surrounded by HRMS students who recently performed one of Steighner's original musicals.
Stories this photo appears in:

"For artistry, excellence and dedication in arts education in our schools and community": That is how a newly created award will honor future dedicated educators in Hood River County. This year's first recipient of those eloquent accolades however is Hood River Valley High School Music Director Mark Steighner.