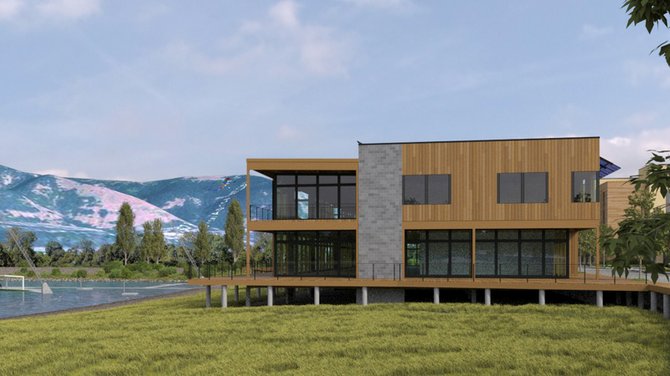 A rendering of the commercial building (center) and hotel (far right) project6 propsed for the Hood River waterfront by Naito Development.
Stories this photo appears in:

Hood River City Council approved the Nichols Landing hotel and commercial building project Monday night and gave the green light to its own State Street improvement project, in a wide-ranging, four-and-a-half-hour meeting. "We are excited to be coming to Hood River and bringing a much-needed hotel and office building," said Steve Naito of the Naito Corp., which will build the four-story, 45,000- square-foot, 88-room hotel, doing business as a Hampton Inn, and two-story, 20,000-square-foot commercial building in the Nichols boat basin on the Columbia River, along with a parking facility.

Public may comment on waterfront project at June 10 meeting
At its May 28 meeting, the Hood River City Council considered two aspects of the proposed development of the Nichols Boat Basin waterfront area by Naito Development LLC. The project would create a 20,000-square-foot commercial building alongside an 88-room Hampton Inn & Suites hotel on city-regulated property adjacent to the exit 63 overpass.

The Oregon Land Use Board of Appeals ruled Friday morning that the City of Hood River must give more consideration to a decision to allow construction of a hotel and commercial building on the Hood River waterfront.