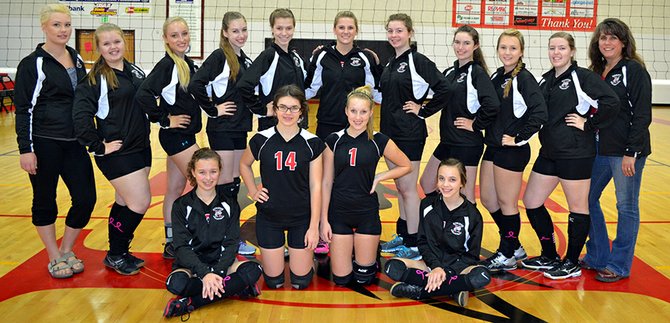 2013 HORIZON VOLLEYBALL players are (back row) coach Loretta Hoeffner,Victoria Rasmussen, Cheyenne Rosander, Amy Requa, Isabelle Cullen, Jayden Shelton, Sarah Wesner, Sarah Ryan, Brooke Serdar, Hannah Lingel, coach Cynnamon Hawkins, (front row) Kaylee Farring, Jasmine Stevens, Savanna Hawk, Kloee Brown. (Not pictured are Anna Robison and coach Shelly Wells.)
Stories this photo appears in:

Second-year team focuses on fun as players gain experience
Under different circumstances, a 0-16 record would be the sign of a pretty dismal season. For the Horizon Christian School Hawks volleyball team, though, this fall's winless season is merely the necessary cost of building the foundations of a new program.