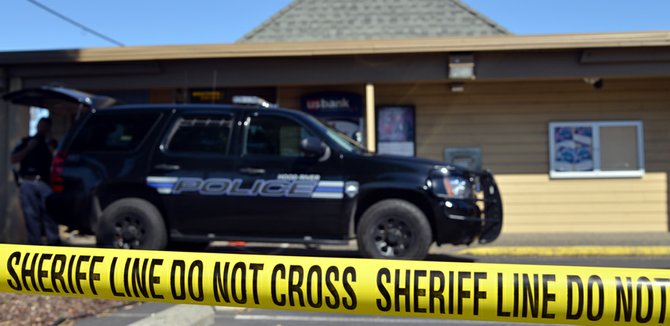 ON THURSDAY, yellow tape surrounds the U.S. Bank branch on the Heights, where police, sheriff, and the FBI investigated the robbery. The bank returned to business as usual on Friday morning.
Stories this photo appears in:

There were plenty of fish in the river but regional water supplies were far from plentiful in 2013. Those are just two highlights of news in the Hood River News in the second half of the year. Here is a summary of events covered from July to December 2013, with a few updates. (Part I ran in the Jan. 1 edition.)

DA reveals details in robbery suspect's initial circuit court appearance
Less than 24 hours after his arrest, 28-year-old Timothy Bryan Glenn appeared via live video feed in Hood River Circuit Court Tuesday morning to be arraigned on charges in connection with last week's armed robbery of U.S. Bank's Hood River branch.

Police search for suspect in U.S. Bank armed robbery
A suspect wanted in connection with an armed robbery that occurred at the U.S. Bank Hood River branch Thursday morning is still at large as of Friday morning.