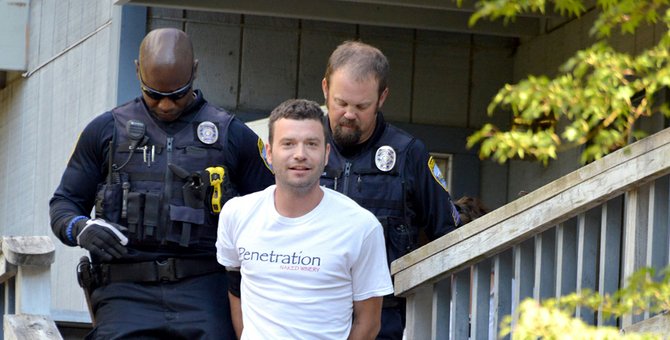 City of Hood River Police officers Stan Baker, Emy Delancey and Chief Neal Holste escort a handcuffed Timothy Glenn out of his 20th Street apartment Monday afternoon. City, County and F.B.I. officers served a search warrant at Glenn's residence earlier that afternoon in relation to last week's robbery of U.S. Bank on the Heights.
Stories this photo appears in:

U.S. Bank Robbery suspect Timothy Bryan Glenn was in Hood River Circuit Court again via live video feed Monday morning to hear the results of his indictment.

Authorities book 28-year-old man in connection with
About 20 people watched from across the street Monday at 4:30 p.m. as Hood River Police arrested Timothy Bryan Glenn, 28, of Hood River, as the suspect in the Sept. 12 bank robbery of the Hood River branch of U.S. Bank.