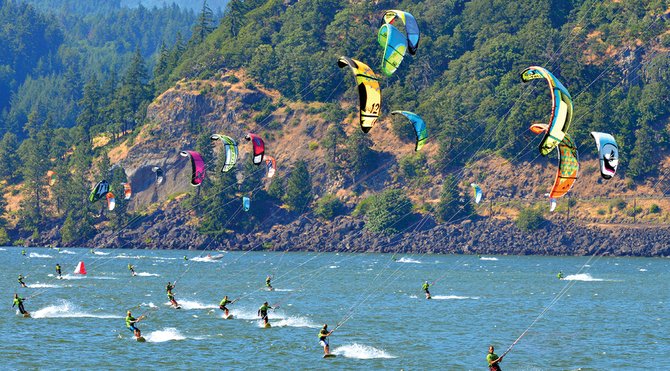 154 participants were on the water Saturday afternoon for the 2014 Kiteboarding-4-Cancer endurance race. In all, participants completed more than 2,300 laps around the three-mile course, equaling about 7,000 miles of kiting. The seventh-annual event based at the Hood River Event Site broke the $100,000 fundrais-ing goal.
Stories this photo appears in:

Heart, Strength, Tenacity: Seventh Kiteboarding-4-Cancer unifies with wind and water
The wind gods smiled on the Hood River Event Site Saturday afternoon. Despite a less-than-favorable forecast, the wind kicked in at about noon, increased throughout the day and blew strong and steady for several hours, giving the 154 participants of the 7th annual Kiteboarding- 4-Cancer fundraiser a full afternoon of sunny skies and steady wind to make this year's sixhour endurance race one of the best and most competitive in event history.