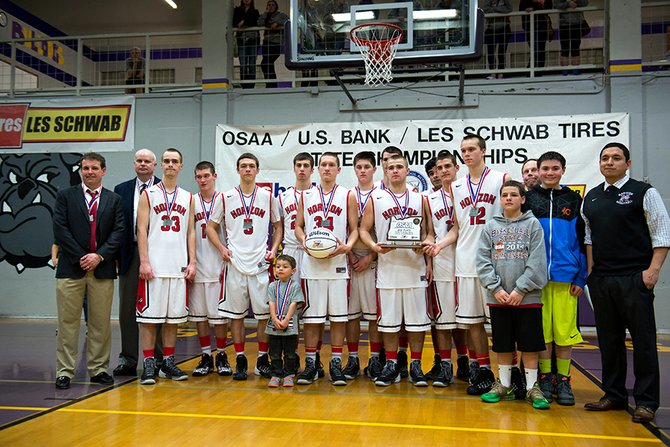 1A state finals Saturday at Baker City came down to Hood River's Horizon Christian School Hawks and Portland's Columbia Christian Knights. The Hawks (above) finished runner-up for a second year in a row after a hard-fought 68-49 loss. Pictured at left (top to bottom) are Mason Bloomster, Matt Totaro and Micah Engel in action in the final game, played in front of a packed house at Baker High School. Although not the result they were hoping for, the Hawks played a tough game against what many said was an unbeatable lineup.
Stories this photo appears in:

Horizon basketball ends 25-2 season runner-up at 1A state tournament
Religious connotations seem appropriate for a basketball game featuring two Christian schools, an "Ark" and a pre-game prayer circle with both teams holding hands. For good measure, each roster had a Luke, one had a Matthew and there's no doubt Mark and John were represented somewhere in the sweltering Baker City High gymnasium Saturday night.