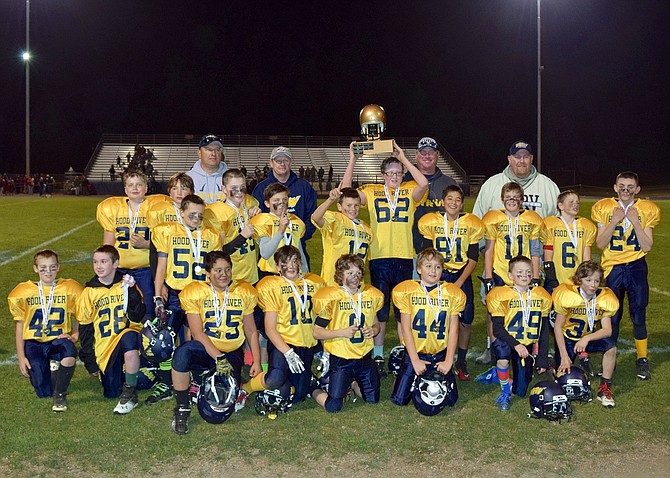 HOOD RIVER YOUTH FOOTBALL had a successful weekend, with the 5/6 Blue team taking first place at the Gorge Youth Football Championships. Blue team, front row, left to right: Scotty Hooper, Wes Osbourn, Jorge Pineda, Max Meckoll, Aiden Cantrell, Nate Matthews, Tieg Jensen, Cole Cantrell. Back row: Tristen Maddox, Thys Van Bysteren, Lane Chandler, Mason Spellecy, Michael Frost, Jakob von Lubken, Alex Whitaker, Cody Cornejo, Ely Kellogg, Joey Frazier, Trenton Hughes. Coaches: Justin Frazier, Vince Wilson, Erick von Lubken, Pete Hughes.
Stories this photo appears in:
HR 5/6 Blue team takes first, HR 5/6 Gold team takes third at Gorge Youth Football Champs
The Hood River Valley Youth Football program wrapped up another successful season this weekend, hosting the Gorge Youth Tackle Football League Championships on Oct. 24 at Hood River Valley High School.