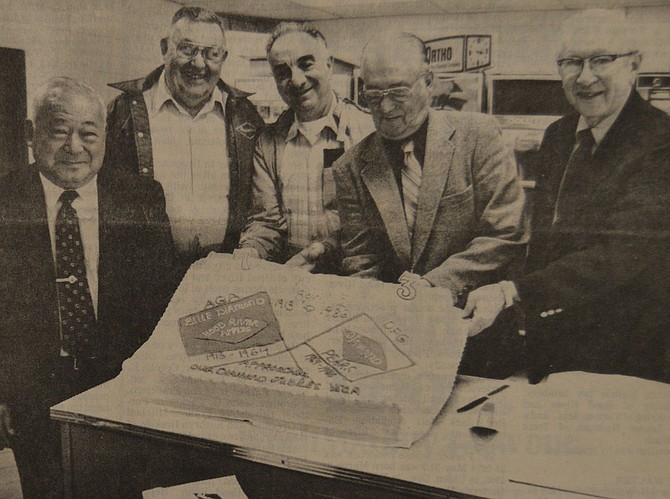 April 16, 1986 — Some of Diamond Fruit Growers' most distinguished alumni gather around the cake decorated to commemorate the cooperative's 73rd year. From left are Ray Yasui, Roy Kirby, Chuck Fioretti, Al Nida and Chuck Beardsley. All of them have been involved in leadership roles at Diamond for many years. Actually, marketing manager Bruce Howe explained the Monday observance is a signal for the start of an even bigger celebration later. In two years, Diamond will be celebrating its diamond year. Howe says he wants to start now preparing for the big year, and he'll be collecting items toward that end. There were several scrapbooks from the past displayed at the Monday session, held at the Diamond Central cafeteria.
Stories this photo appears in:
"We had an earthquake — I felt it," said the unidentified caller Monday afternoon. "A friend called me, and he said he felt it too." It was the first indication that Hood River area residents noticed what was later identified to be a mild earthquake which centered south of The Dalles and measured 4.8 on the Richter scale. No damage was reported.