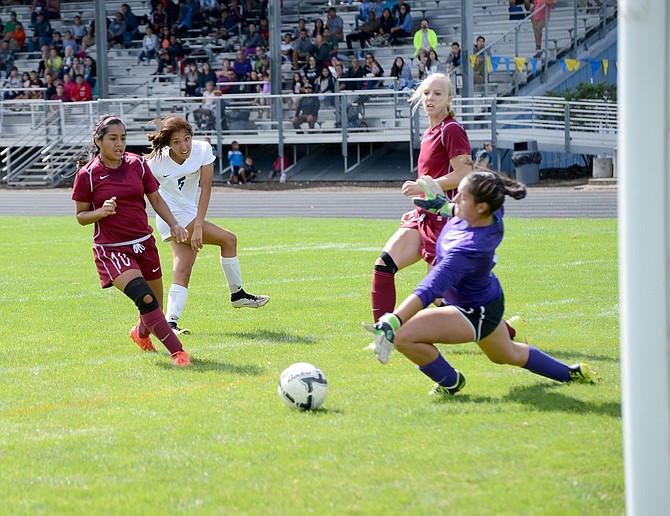 MCLOUGHLIN HIGH SCHOOL didn't stand much of a chance against the HRV girls soccer team during the Eagles' home-opener at Henderson Community Stadium on Saturday, where HRV dominated possession and implemented a relentless attack that scored six goals in the final 23 minutes of the first half. HRV would go on to win the nonconference game 8-0. Although it was against a 4A team that won't do much to improve the team's ranking, nonconference wins will be important for the Eagles this season as they aim to improve their seeding as they anticipate another appearance in the postseason this year. Above left: senior forward Cielo Rivera (white jersey), sneaks one by McLoughlin goalkeeper Mallory Copeland.
Stories this photo appears in:

Eagles run wild on McLoughlin Pioneers in home-opener
The HRV girls soccer team has ruled the roost in the Columbia River Conference for the past several years, taking the CRC title every year since Kevin Haspela took over as head coach of the team in 2010, although the Eagles did share the title with Hermiston back in 2012.