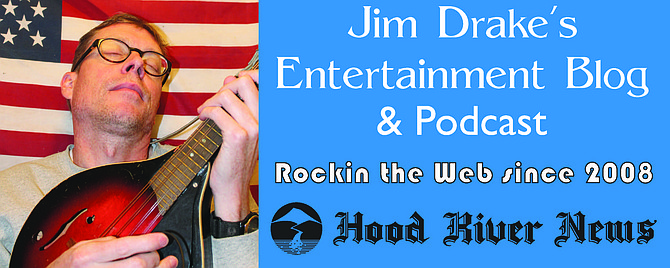 This was originally published July 11, 2012 in the Hood River News
Jim Drake's Entertainment Blog
British Invasion? '70s resurgence? '80s influenced? Take your pick this summer
So, I mapped it out on Google. On Sunday, July 15, by total coincidence I'm sure, two major players from the 1960s British Invasion will be playing music approximately 17 miles from each other.
You may have heard of this guy, Ringo Starr? Well, he's on tour and he's bringing his music to Troutdale.
Now the other guy, Ray Davies — you probably know the band name better than you know his name — led a band called The Kinks for something like 30 years, and he'll be at the Aladdin Theater.
Now, this might be a stretch in thinking, but in looking at the start times for these shows, 6:30 p.m. for Ringo and 8 p.m. for Ray, I find it kind of serendipitous that Ringo starts first. That's because I've read some interviews where Ray said there were a few times that the Beatles opened up for the Kinks, way back when both bands were starting out.
And here we are, 47 years later, two people from two bands still playing the music, on the same night, within 17 miles of each other, only this time on different continents. And yes, the ticket prices are essentially the same, too.
Some things never change.
If you'd like to move up a decade or so in the music choices, don't worry, all you need to do is stay in The Gorge and it'll be right in your backyard. Really, by now you've heard that '70s pop-rockers Pablo Cruise will be on the lawn of the Columbia Gorge Hotel on Friday.
So if you're one of the lucky folks who managed to hang onto all of your old vinyl albums, go ahead and dig out your copy of "Place in the Sun" and bring it to the show so you can have it autographed.
This should be a very interesting night of music — I just found out yesterday that a fellow I interviewed last December, Bob Kalamasz, is booked as the opening band. I wonder what his connection to Pablo Cruise is?
Now, where does that leave us? Yes, that's right, the '80s. And you can start the weekend early Thursday at The Trillium Cafe, with Nefarious Jones. The last time I was at the Trillium was for that Cars tribute band "Candy-O," which was one of the most fun gigs ever.
It was so fun that afterwards I proceeded to buy every Cars CD I could find, which reminds me: 1) I still need the first album on CD (I can't believe I don't have it) 2) The CD "Candy-O" is a great sounding CD that sounds like a mid-80s record but was actually late 70s and 3) Unless you want to pay $25 it's impossible to find a copy of "Panorama." I settled for the used vinyl. Confused? Don't be. Start the summer fun right and go see Nefarious Jones. I had a hunch they'd be fun, quirky band to interview, and they did not let me down.
See you at the next show!
Interview with Nefarious Jones
Tell us how you guys came up with the name "Nefarious Jones." Sounds like a character from a book or movie... Ya know how in cartoons an angel on the right shoulder represents a moral conscience? Well, the devil on the left shoulder is basically Nefarious Jones. It's a part of you. Not that we're nasty or rotten or anything like that, just naughty. More like Loki than the devil, really. Hey - didn't Loki have a comic book character? Anyhow, "Nefarious Jones" came to us while mowing the lawn back in Indiana.
There was one music reference to your band sounding like Led Zeppelin on the web, which I must say, I disagree with. It's more like Devo-meets an all-male version of the B-52s. What should the real music description of your band be? I agree with you. Who wrote that malarkey? We're more like the B-52's meets an all-male version of Devo. We are funk/rock/space /groove improv and mayhem. (BTW, Led Zeppelin rules!)
Your email said that you guys were in Hood River before, maybe last year? It must have been a good time the first time around — are you glad to be back in the Hood? Who do you stay in touch with here? We came through 2 summers back and played at the River City Saloon. Really fun time. We stayed with our buddy Anton, but he's since moved to Greece and joined the military. We're really excited to get back to Hood River. We're coming a day early and have no place to stay. We're hoping to make some new friends this time around.
I saw a photo of you guys that was labeled as "opening for the band Phish at The Gorge Ampitheater." How did that gig go? We did "play" before Phish on a side stage. Opening is a little misleading.... but it was a great experience. It was sunny, the wind was blowing through the gorge and we got to play music outside in this super beautiful place. But everyone was there to see one of the greatest bands on the planet. No one paid us much mind. Well, one guy, actually. We think his name was Jeremy?
Thanks again you guys and enjoy your time here! von Diggit, Jim! von Diggit!!
The Nefarious Jones band plays Thursday, July 12, at the Trillium Cafe in Hood River. 9 p.m. 21 and over only. No cover charge.