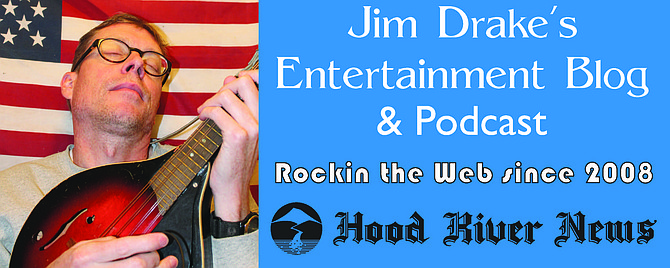 By JIM DRAKE Hood River News
Well, it took me all summer, but I finally finished reading my book. At only 350 pages, I pondered why it took me so long. Most of the reason is due to the fact that I seem to be falling asleep about five pages into reading anything. Not because the book was boring, but I think it's this bifocal prescription I have. My eyes just seem to glaze over stuff, and suddenly I'm in a trance-like state.
I mentioned this to my eye doctor one time, and I remember asking him, "Have you heard any reports of, you know, people falling asleep when trying to read books with bifocals? And he said "Uh, yeah, that has been reported to happen." And I was like, "Oh, great. I'm so glad it's not just me."
Anyway, what book did I finally get through? It was the classic "Robinson Crusoe." Originally published in 1719, the copy that I read was a modern paperback you can get for a few bucks. I think I found mine at a garage sale.
By complete coincidence, though, when I was three quarters of the way finished, I discovered that someone had left a hardcover copy of "Robinson Crusoe" on the "free" shelf in the basement of the Hood River Library. The special thing was — it was an edition from 1908!
Wow, now this really got me thinking. First of all, who would get rid of this? Just being able to hold something that still exists after 100 years, to me, is a treasure. Who owned this copy? And where did it sit before it wound up here? This fascinated me.
And then I got to thinking, where are we, as a society, going with books, considering the digital-age and all?
To me, this "free" shelf at the library seems to be one of the last stops for the paper book's life span. The Kindle, the Nook and the i-generation devices are replacing books and even textbooks, probably at an alarming rate.
So a few days later, guess what shows up in my email? A note about an author, who happens to live right here in Hood River, and her new book. She has a hit story on her hands called "Pandora's Key," that's very popular on Amazon.com.
The fact that I recently found a 100-year-old copy of "Robinson Crusoe" and now had an opportunity to interview an author who has a successful digital book got me thinking about that "free" library shelf again.
Can you imagine 100 years from now? If it's still here, will people be digging through old dusty, discarded Kindles, discovering lost classics that were written in the early part of the 21st century?
Interview with Nancy Richardson Fischer, author of 'Pandora's Key'
Nancy Richardson Fischer recently won the IndieReader Discovery Awards with her book "Pandora's Key," which placed first for young adult fiction. Since the book was published in November of 2011, "Pandora's Key" has reached as high as No. 15 on Amazon.com's bestseller list for young adult contemporary fiction/fantasy. The story centers on Evangeline, who must use her wits and supernatural powers obtained from an antique key charm, to fight her deadly adversaries and discover her true identity.
Is this your first book?
"Pandora's Key," Book One of The Key Trilogy, is actually the 10th book I've published. The first nine were published traditionally (published and marketed by mainstream publishing houses — Simon & Schuster, Harper Collins, Little Brown). "Pandora's Key" is my first self-published book. That means I wrote, edited, published and marketed it (by word of mouth) myself. Marketing "Pandora's Key" has actually been the toughest part! It's like building a snowball — you have to be patient, keep rolling it, and hope that eventually the snow will stick and the snowball will get big enough to stand on its own.
How long did it take to write "Pandora's Key?"
Writing "Pandora's Key" took a year and a half. Self-publishing took several months because I needed to educate myself on the process and get used to the idea that the publishing industry is changing.
When did you start your writing career?
I started my writing career out of college. My first job was with Ringling Bros. and Barnum & Bailey Circus. I traveled with a unit of the circus and wrote stories for newspapers around the country on circus performers including clowns, wild animal trainers and lions.
I learned how to write on deadline, that tiger whiskers are considered good luck, and to run when an elephant starts to sneeze.
Following the circus, I was the senior campaign writer for the University of California, San Francisco and then I worked freelance for LucasFilm and wrote a Junior Jedi Trilogy.
The latter was one of the most incredible writing jobs I ever had, and it convinced me that writing books was my passion. I got my first big break writing Bela Karolyi's (famed Romanian gymnastics coach) autobiography and never looked back.
Did you ever envision that there would eventually be a digital-download world?
Not really! I did think people would be able to read books on computers, but I never envisioned hand-held devices could replace paper books. I still love buying "real" books, but admit that my Kindle has changed my life. I used to cart 10 pounds of books on a vacation to ensure I never ran out of something to read. The ability to download a book anytime is incredible.
I read that Pandora's Key takes place in Oregon. Can you tell us which particular places inspired your story?
While PK has elements of fantasy, it's really magical realism, not high fantasy — meaning there are no dragons, vampires, werewolves or alien worlds! I wanted a gritty, real-world setting to make my protagonist's story feel possible, so I set the story in Northwest Portland, including The Pearl District and Forest Park.
What aspect of "Pandora's Key" are you most proud of?
That's a super-hard question! I really like that Evangeline (my protagonist) grows throughout the story — finds her voice, makes tough decisions, and becomes the hero in her own life's journey.
I'm also proud and grateful that "Pandora's Key" has found a readership despite having no marketing campaign. That's really because readers are talking, tweeting, and writing reviews to get the word out. So an enormous thanks goes out to all my readers for making "Pandora's Key popular and I want to let people know that the second book in the trilogy, "The Key to Tartarus," is on its way.
How long have you been in Hood River and what drew you to the Northwest?
I've been in Hood River for 20 years. Initially I came for a summer to learn how to windsurf, but I kept coming back because I love the town, the people and the outdoor fun. Fischer's website is at www.nancyrichardsonfischer.com
http://hoodrivernews.www.clients.ellingtoncms.com/users/photos/2012/sep/28/1430/