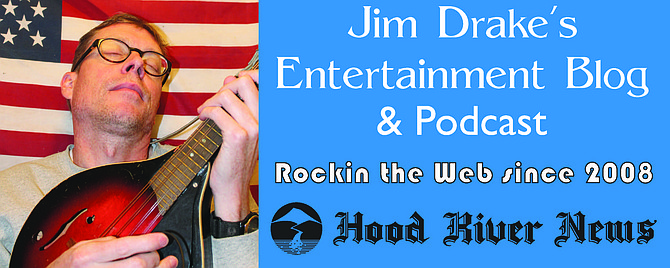 Jim Drake's Entertainment Blog
9-28-12
I'd like to extend a whole-hearted thanks to all the firefighters trying to extinguish our current fire situation 2 miles east of Hood River. As of today it is contained and the weather seems to be cooperating (no wind).
But the other day, when I was trying to watch the video for Dodgy Mountain Men's song "Simple Man's Blues," the phone rang and the intercom called and somebody wanted to know where I had put such and such a story in the files and.....
Well, you know, you can get distracted working at a paper.
So when I sent these guys some questions, I was positive that the guy who was "buried" at the end of the well produced video was a real mystery.
But the band assured me the answer was quite clear.
It sounds like I'll have to watch it again, as soon as all this smoke clears.
Interview with the Dodgy Mountain Men.
1. Thanks for putting Hood River on your tour schedule. Tell us how you guys chose to start your Fall tour with a show at the Pint Shack on Oct. 1.
A: Initially the tour started in Portland on Oct 2. We have a good friend who is a radio DJ in Missoula named Tracy Lopez, and she's from Hood River and hooked us up with Erin over at the Pint Shack. We're glad we could squeeze it in - it's only a two week tour but we're playing eleven dates from Missoula to San Francisco so we're hitting it hard!
2. DMM is a pretty good band name! Please go ahead and describe what you do and where your musical influences come from.
A: Eric brought the name to our first practice - I didn't care for it at first but we've really grown into it. We play what we call "Stompgrass;" kind of a mixture of bluegrass rhythms, bluesy soul and rock 'n' roll attitude. Our influences are all over the place - Bob Dylan, Led Zeppelin, Townes Van Zandt, Grateful Dead. I think we've also been really excited by some of the up-and-coming bands we've been able to share the stage with, like the Devil Makes Three and Fruition, and have gotten inspiration from them as well.
3. I like how you guys have taken aspects of bluegrass and country-blues ---- and then added a percussion element. It sounds like more people are playing, but there's only 3 of you?
A: Actually, there's four of us - the video is misleading because our bassist couldn't make the shoot! We actually have a new bassist now and this is our first time on the road with him, we're pretty excited about it. The tabla drums bring a real interesting sound into the mix.They're a lot of fun to play with and one of the major things that cuts us apart from traditional string bands.
4. Nice video of "Simple Man's Blues." I don't suppose your gonna tell us who really got buried in the end, though..... A: Ha, I think it's safe to say the shovel swung at the suit-and-tie is pretty indicative of who's lying in that grave, but who's to say for certain. We had a lot of fun shooting that video - our friend Chris Balboni directed and filmed the entire thing and we're so thankful to him and all the other incredible talents that have really helped us push our music.