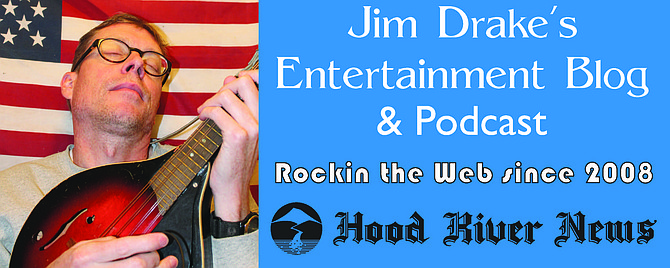 By JIM DRAKE, Hood River News
Dec. 20 update: Christine Lavin's show at the Aladdin, as well as a substitute Portland-area house concert, and subsequent Oregon shows (Eugene) have unfortunately been canceled. Lavin is home resting after a brief hospitalization for kidney stones. I hope you enjoy this interview we did for that show, and hope you get in touch with some of Christine's music, especially the new CD, Just One Angel v2.0.
Folk musicians need to wear a few different hats nowadays. And that means for singer-songwriter Christine Lavin, you can add video creator to the list as a means of promoting her new alternative holiday CD project "Just One Angel v2.0."
"What I'm doing right now is I'm writing an email letter to all the artists, I just finished another video and I'm bringing them up to date on what's going on with the record," Lavin said in an interview from her New York City apartment.
I gathered from her direct, non-third party email that she is extremely involved in doing her own music promotion.
"(laughs) You would think! We have no budget, so we're doing it all," Lavin said.
Lavin had just posted a video (http://www.youtube.com/watch?v=HGN4cD...) of Emily Kurn's "Light The Lamp: A Song for Hanukkah," one of the tracks on the new holiday CD.
"Emily is coming (to Portland and Eugene) in from Anchorage, Alaska. I should have thought of this earlier, but I got this idea to make a video for her song on Monday, and Wednesday was the first day of Hanukkah, so we worked through the night. She was online in Anchorage, and I was online in New York, and we've never actually spoken yet, I don't know what her speaking voice sounds like. But we got it posted on Tuesday night, and it's gotten over 1200 plays already. And that's a lot for folk music, especially since we're just doing it ourselves, have you seen it yet?" Lavin asked.
You can count me in as one of those 1200!
(laughs) Isn't that beautiful?
It is, it's just a really pretty song, with great photographs.
"And she is completely flabbergasted at the number of folks who have seen it, because she wrote the song a few years ago, and nothing has ever happened with it. In 2011 I learned how to make videos, and I'm just so enthusiastic about creating in another format — it's just another vehicle to get the song out there. As soon as I heard this song I thought it was really special, and I was shocked that I hadn't heard it before. Emily did a new recording of her song for us and it's got more instruments, it's got more emotion and it's more personal. I got an email from a woman in Washington, D.C. who watched the video six times in a row, and then she went online and bought tickets for the show," Lavin said.
"Just One Angel v2.0" is a collection of alternative holiday songs from 20 contemporary singer/songwriters, including co-producer Andrew Ratshin, of the band Uncle Bonsai. It's a funny story, but I should have realized that Lavin didn't write all the songs on the CD before I heard the first song.
I guess I have a funny little story to tell you. I got your email, and I admit that I focused on the subject line: A new CD from Christine Lavin. I downloaded all the songs, and I clicked on the first track. I listened and said to myself, "wow, this lady has a really deep voice."
"(laughing) and what did you think when you heard the second song?" Lavin asked.
Well, when I heard another song, I wondered if I had downloaded the right album. I apologized and finally read through the email and figured out it's a compilation album of artists, that includes Lavin's song "Christmas 1899."
"Well, I'll tell you, you're not the only one that's made that mistake. A very well respected theater director in New York emailed me a couple of weeks ago and said we're doing this show and she said we want to do one of your songs, do you have anything new? So I sent her the entire Angel record, and she thought I had written every song on it. She chose the song "Snowday," and then she made posters, and then she found out that I didn't write it! She was so embarrassed. But I was thrilled for Honor Finnegan, who wrote the song," Lavin said.
The first song on the CD happens to be "Little Christmas Song" by David Roth. I told Lavin that I have, in my vast collection of music, a copy of an album called "Another Side of David Roth." I was happy to know that maybe I wasn't the only person in the world that has heard of him.
"Oh, I've known him for decades. He was part of the folk scene in Greenwich Village back in the 1980s. Originally, we wanted all brand new songs, and most of them are. But there were a couple of songs that came in over the transom that I'd never heard, and they were great. So we thought we shouldn't penalize the song just because we haven't heard it. But with David's song, as soon as I heard it — not only did I know that it should be on the record, but it was clear it should be first. I'm very happy for David; it's a great position to be in." Lavin said.
I asked Lavin about her musical beginnings and what is it like working in today's modern folk music world. Lavin said she works every weekend, except, of course, during the Thanksgiving holiday, when I managed to talk to her.
"I started when I was 12 years old, and I learned guitar by watching lessons on public television, which is channel 13 in New York City. The teacher was Laura Webber, and I actually met her 26 years later, at a Four Bitchin' Babes concert at the American Music Hall in San Francisco. She sent her business card backstage that had a note that said 'I taught you how to play,' so I had her come up and take a bow for the audience. She was so sweet. When she saw me perform she said I made up for all of the students she had that never practiced," Lavin said.
"But it took me a long time to finally figure out how to make a living out of music. In 1984 I was 32, which is a really, really late age to decide that you're going to do music full time, especially for a women. And now, I'm making the same amount that I was in 1984! (laughs) Business has been really, really tough. CD sales have dropped off ridiculously, and no one ever wants to pay internet fees for songs. But I'm not unusual in that situation; there are a lot of musicians whose royalties are getting cut. But I'm having a ball, I'm 62 years old, so I'm at a place where I could even think about starting to collect social security, even though my business manager won't let me. I'm fortunate to have a business manager who, many years ago, forced me to save. And I'm the only folksinger I know who has a retirement account. (laughs) I withdrew money from it, just for this project, but thank god I have a retirement account!" Lavin said.
Lavin also talked about who was in her music circles at that time, as well as her mentor, famous folk guitarist Dave Van Ronk.
"Well, people coming up in 1984 were Suzanne Vega, Shawn Colvin, John Gorka, Nancy Griffith and Lyle Lovett. I was fortunate because Dave Van Ronk was my mentor and teacher. I wrote of book in 2010 and I dedicated a part to him. Now, we're all so thrilled for Dave, because of this Coen Brothers movie coming out, "Inside Llewyn Davis" which came in second at the Cannes film Festival this summer. I think it's opening in NY Dec. 6 and going nationwide Dec. 20. Everyone I know who's seen it has just raved about it. I've heard the soundtrack and I've got to say that one of the stars is someone who I've followed very closely: Justin Timberlake. When I heard him singing "500 Miles," I was blown away, because he sings it very respectfully. The fact that Dave Van Ronk's song "Green Green Rocky Road" is the closing credit music is a great thing for Dave's profile and a source of stability for his widow." Lavin said.
"The Smithsonian just released a 3 CD boxed set of Dave Van Ronk material. He died in Feb. of 2012, but it's amazing to think that the cool and hip Coen Brothers have made a film about folk music. I predict there's gonna be a run on acoustic guitars for Christmas presents this year. I can't wait to see the movie."
Lavin's show at the Aladdin Theater in Portland on Dec. 20 will feature Seattle's Uncle Bonsai and guest Emily Kurn. Bonsai member Andrew Ratshin co-produced the "Angel" CD and Lavin talked about the show format.
"It's a co-bill with Uncle Bonsai and me; this is the third year we're doing it. I'm the first half of the show, they're the second half of the show, and our guest slot is about 15 minutes. I'm going to open with David Roth's song, then I'm gonna introduce Emily and she'll get to do her thing, then I do about 40 minutes. Then its intermission, then its Uncle Bonsai, then we all come out at the end for a finale. There will be some holiday material but also I'm focusing on songs that I've written this year, because this is the time of year when you look back at big news stories and that kind of thing, and I've got some songs that address some topical issues. It's going to be a lot of fun," Lavin said.
"Uncle Bonsai is really unusual; there are 3 voices and 1 guitar. Andrew will play the title track "Just One Angel," it's a very emotional song. On our first "One Angel" CD the track was an instrumental piece. It's really not a holiday song, but it was so popular on the first two tours, it's now a regular part of the show. So we had to do another record that includes his vocal version of the song. I just love it so much."
Can you go ahead and talk about your song on the album, "Christmas 1899."
"I originally got the idea from a guy named Gary Dennis. Even as a 10 year old, Dennis realized that Bogart had lived on the same New York City street he was on, and he came up with this idea of honoring him by naming the street after him. He followed through with that idea and in 2006, the street was dedicated through his efforts. I got the idea that this could be a really interesting song. In my song, I can just imagine a diehard romantic making a pilgrimage to West 103rd St, in Manhattan to propose marriage, under the Humphrey Bogart sign," Lavin said.
Do you see any difference between the east coast and west coast crowds for you in terms of audience or recognition?
"I think the folk music crowd is like the jazz crowd. It'll never be the big popular thing but there are always passionate people who love it, and I really do think the Coen Brother's movie is going to make being a folk musician very cool again. With the economy the way it is, folk concerts are easy shows to produce, we don't' need fireworks and girls in cages dancing, and all that crazy kind of stuff. People, especially this time of year, have a real longing to feel like they are connected to a community. People come back and see you again and again. Folk people are very open hearted, and it's something I've been talking about a lot, because my mom is in a long-term care facility. But the crowds pretty much dress the same (laughs), not fancy, but I like that. And they love story songs," Lavin said.
"I was with the Four Bitchin Babes for 8 years, and after one show the venue owner said people leave this concert feeling the way you do when they leave church. There's a feeling of camaraderie, especially if you're singing together, and it's kind of uplifting and fun, but it's not religious in nature at all. That's what people are looking for, a connection and shared experience," Lavin said.
Throughout our conversation Lavin often referred to her recent loss of her longtime boyfriend who died earlier this year. She reflected on him in this Christmas-time memory.
Well, for me it's a bittersweet story now. Last Christmas Eve, I a took a train from Washington, D.C. to New York, and my boyfriend, being Jewish, always loved Christmas because he sold trees and wreaths when he was a kid. I felt like I was in a movie last Christmas Eve, because I had this car service drive me around and wait for me as I bought a Christmas tree and lights. My boyfriend was bedridden at the time and I had bought all of his favorite foods and I had handmade ornaments for the tree, which we decorated. We had chicken pot pie and sweet potatoes. It was the sweetest Christmas I ever had. And I knew that he was so happy, too."
Listen to Christine talk about each track of "Just One Angel v2.0: http://www.hoodrivernews.com/audioclips/45/
Little Christmas Song – David Roth
Seasonal Work – Uncle Bonsai
Mistletoe – Shelby & Tieg
Snow Day – Honor Finnegan
No Room At The Inn – David Roche
Chelsea Boys – Spottswoode & His Enemies
Light The Lamp (A Song For Hanukkah) – Emily Kurn
These Ornaments – Craig Werth
Ho Ho Ho – Bernice Lewis
My Christmas Guitar – Tom Paxton
Grand Central Station Stars – John Margolis
I Want An Old Fashioned Christmas – Amy Speace
The Last Night Of The Year – Tom Wopat w/Tedd Firth
O Bento Airoso -- Field & Franz
Don White's Advice/Christmas Memories – Don White
Pass The Fruitcake – Claudia Russell & Bruce Kaplan
New New Year Year – Lou & Peter Berryman
Tree – Ilene Weiss
Christmas 1899 – Christine Lavin
Just One Angel – Electric Bonsai Band w/Gwen Franz
Listen to Christine talk about the relation between folk music and baseball http://www.hoodrivernews.com/audioclips/44/
Listen to out-takes from Jim's interview with Christine Lavin: http://www.hoodrivernews.com/audioclips/46/
This just in, Christine emailed me a review of the Coen Brother's movie, as well as some insights to Dave Van Ronk, her friend and mentor. If we had a rating system here, I'd say it's a "one star" film. :(
Well, I wanted to LOVE LOVE LOVE it. Then I wanted to love it. Then I was hoping to like it.

Like all the Coen Bros movies it looks great, is technically superb. The music is done well. But this ain't going to inspire no modern day Great Folk Scare.

The film is bookended by Llewyn Davis getting beaten up in a dark alley. In between it's the audience getting beaten up. There's absolutely no one to root for in this film. Not even the cat.
The best part of the film -- without a doubt -- was when Dave Van Ronk's singing and guitar playing is heard as the closing credits crawl up the screen. Nothing in the film came close to approaching that moment. I got a little teary hearing his voice, wishing he could be here to witness all the hubbub. He'd be shaking his head, roaring with laughter.

But I hope it has rekindled interest in his work in a big way. That's the best thing that can come out of this.

Dave was a big, loud, opinionated, brilliantly talented, larger-than-life character. He had enormous hands, with delicate long, slender fingers. He was 6'4" -- women LOVED him, men were intimidated. He had a soft heart, was kind to many, even when they didn't deserve his kindness.

He lived very close to Ground Zero, and after 9/11 couldn't walk more than half a block, having to stop, gasping for air. That's when they kept telling us the air quality was fine. We now know it wasn't.
When he was diagnosed with colon cancer in October 2001 and his surgery scheduled for Halloween (he loved that coincidence), it had to be postponed again and again because his breathing was so compromised. They put him on higher and higher doses of steroids that compromised his immune system, leaving him open to infection.
That's what killed him -- the infections he got because the steroids opened his lungs up enough to breathe through the operation, but left him defenseless when the infections took hold.
No one was allowed to visit him -- for fear of infection, but also because he didn't want anyone to see him the way he was. Only his wife Andrea.

I hope someday they make a film of the real Van Ronk, REALLY based on his book.

The soldier in the film who sings "Last Thing On My Mind" -- that was Tom Paxton. He was in the army, used to show up at the village clubs in his fatigues. But that story line goes nowhere.

I guess you'll want to see the film, but if you can skip it, do. There were 7 of us watching, all musicians, and all stunned into silence. My dream of Justin Timberlake inadvertently lighting a fire under the acoustic music scene died a quick, sad death tonight.

As Dave said about the book "Positively 4th Street," -- obviously written by someone who wasn't there -- ditto.
Hope I saved you 105 minutes of boredom.
Chris