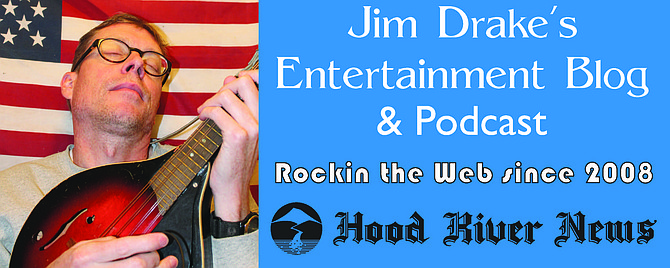 I suppose it shouldn't surprise me that the topic of a major spiritual pilgrimage has made an appearance in my blog for the second time in as many weeks. Last week, classical guitarist Peter Fletcher played a piece called "Diario dun Camino," based on composer Jeremy Gill's personal journey along the 500-mile trail, and this week, filmmaker Lydia Smith will be at the Mt. Hood Film Festival with her award-winning documentary "Walking the Camino: Six Ways to Santiago."
Not too long ago, I watched a movie called "The Way," which is about, you guessed it, the exact thing that everyone's been talking about lately, the Camino. It's a great film. And it was even more fun to learn that Smith was responsible for providing the actors in "The Way," including Martin Sheen and Emilio Estevez, with footage that trained themselves and others on what the Camino was really about.
My only hope now is that Lydia gets to hear Peter's music sometime, and somehow, incorporates his version of "Diario" into the background music of her film.
That would be great, and it might finally make me stop humming Peter Frampton's 70s hit song, "Show Me the Way."
Interview with Lydia Smith
The first thing I have to ask is, are you familiar with the movie "The Way"?
Oh yes, we did a 20-minute trailer of our film, right after we came back from filming, to try and raise money to do this, and I sent it to Martin (Sheen) and Emilio (Estevez), and they used our trailer to train the actors for that movie, because neither of them or the actors had ever walked the Camino.
So they used our trailer to help people understand what the pilgrimage is really about. Martin really liked our film, which was really sweet.
I understand this is the 13th film festival for your movie.
It is, every time we've either won an award or sold out or both. We were at "Heartland" which is a really important festival in Indianapolis for positive, uplifting themed type films — about 900 people saw it.
There's been a huge surge in the interest in the Camino, so we worked out a deal with the theater where we were supported for over six weeks of showings. In Portland we sold out 7 days in a row at the Hollywood Theater, now we're going into our 9th week there. It's pretty exciting. We've had people fly in from other states, or driving for five hours to go to our screenings.
One thing people don't know is film festivals don't pay filmmakers to show their films, so we spend a lot of time and money for outreach programs. Film festivals sometimes lead to theaters wanting to run our movie, which helps us recover some costs.
What is the name of your film company?
It's a non-profit called Future Educational Films, which was incorporated in the early '80s. I studied film at Berkley, and was inspired by a film I saw on child abuse, "Breaking Silence, " by Theresa Tollini-Coleman, who became my first boss. I was so impressed with how the message was so transforming. She showed me the incredible positive difference you can make in the world with film. Theresa also helped on "Camino."
You filmed over 300 hours for this project and edited it to 84 minutes. What do you want people to take away from this film?
The Camino is an amazing thing because I believe people literally get called to go do the pilgrimage. They say, "I have to do this," and "I need to know everything about it." When I hiked it, that was my experience, that's what happened to me personally. The moment you hear about it, you know that is what you're supposed to do. That was the common sentiment of all the people we followed in our film.
Is this movie about certain people or an overall look at the pilgrimage?
The movie follows six people (we actually followed 15), What we would do is wake up and film somebody having breakfast, I'd interview them and then I'd film them walking, then we'd get in the van and try to find some of our other pilgrims. We would film people for about half a day, every three to four days, I didn't want to follow them 24-7 because then they wouldn't have their "own Camino" nor did I have the camera crew to do that, but it did seem like filming over every 3-4 days over the course of 35-40 days you really had a chance to see people unfold and transform before your very eyes, so that was kind of my intention.
How did your film get accepted into the Mt Hood Film Festival?
Well, Dan (McCabe) [one of the directors of the festival] had seen the film in Portland, and once he saw it, he said he wanted it in the festival. Last year, he saw a rough cut we did, and he really fell in love with it. He's been following the progress of the film for 3 years, so he's seen a couple of cuts, and I think each time he sees it he likes it more.
It's amazing that this topic has come up again, just last week I just did an interview with a classical guitarist who was in town this week, and he did a piece by an American composer (Jeremy Gill) who apparently walked part of this trail, and wrote music about it.
Yeah, it's funny how that happens with the Camino. The interest in the Camino has just exploded, like I've said, we've just been so amazed and touched at how many people want to come see the film and see it again and again. The great thing about the Camino is there's really no dogma or rules or do's or dont's. It's a really open experience. It's about finding what you need the way you need to do it. I guess it really resonates with a lot of people. I guess I can only speak for myself, but I hate being told what to do and how to do it, and I think we each have to find our own way. What may work great for you may not work for me, but it doesn't make your way right or my way wrong, but each of us has our own way.
That's what's so beautiful about the Camino, it really does encourage that, to each his own, it encourages people to find the way that works for them, to find their own Camino.
I think that was one of the main points of the Martin Sheen movie, for sure.
I'm glad this film was chosen for Hood River, it's outdoorsy, and I think the people are introspective, and it's a perfect fit, I think.