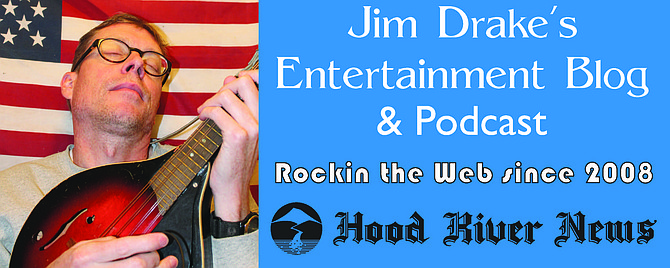 It's getting close to the holidays. And when it gets close to the holidays, I always start thinking about trains.
It's one of a handful of early childhood memories I have left. We set them up in the basement, right on the concrete. Same pattern, every year. A big oval, with a figure eight in the middle.
One train set was even older than the other one. One was tin, and one was plastic. But even the plastic ones looked pretty old. Lionel. 027. The engine weighed a ton. We used a can of fake snow to decorate everything.
Thankfully, those trains still exist, and I have them. But since I don't have room to set them up, I guess the next best thing is to hear some songs about them.
In 2012, Peter LeClair and Carmen Paradise took a 6,000 mile journey around the country via multiple historic train routes, seeking inspiration for what became their latest CD release "Train Tracks." The duo plays under the band name The Marvins, and their next stop is Everybody's Brewing on Friday, Nov. 15, at 9:30 p.m. Expect a blend of Americana, bluegrass and modern folk inspired music.
Peter was kind enough to talk on the phone for a few minutes about his band, so take a few minutes and get on board. It's always fun to learn about folks who make music.
You know, I'm looking around my desk as I write this. I can definitely see some potential for some N-scale layout….
Where are you guys based out of?
Well, we grew up in Rochester, Mich., just a few miles north of Detroit, and we moved out here to Portland, just this summer.
I saw on the web you just played Colorado.
Yes, we did just get off a tour, and we did a couple of shows there.
Since "Marvin" doesn't seem to be associated with anyone in the band, what exactly is the significance of the band name?
(Laughs) well, it's a long story that's not really very interesting, (laughs). My wife, Carmen, who is the bass player in the band, and I had a casual conversation many years ago and she asked me what my middle name was. I dodged the question by asking what do you think my middle name was, to which she responded "Marvin." Years went by and we hadn't thought about it, and years later, when we were dating, we came to the realization that she still thought my middle name was Marvin. That kind of spawned my giving me a social networking name of Peter Marvin, which then just turned into The Marvins.
And that's what works for you guys now?
Well, that's the genesis of where the name started!
Your songs online have a full band sound, is a full band coming to White Salmon or will this show be just the duo?
We're playing as a duo in White Salmon. Generally speaking I play guitar and sing, and Carmen Paradise plays bass and sings. One of the things that we try to do on our live shows is really make an effort to make the two of us sound like as big a band as possible.
We do this by using a lot of the percussive sounds from the instruments, so we're sort of creating the illusion of a drum set.
My style of guitar is to try and play a lead and rhythm at the same time, which allows some of the melodic material to creep its way in, while still maintaining the rhythmic backbone that's necessary for the song.
What percentage of your stuff is original compared to covers?
It sometimes depends on when you see us but for the White Salmon show it's probably something like 75% original, 25% cover.
How long have you guys been doing this?
As the Marvins, we've been playing together for 7 years. As friends in various ensembles we've been playing together for 15.
Do you have friends come in a play on your albums or is it all done you guys?
It has varied, the first couple of albums were mostly us, and I did a lot of the instrumentation. On our first album "Lucky Stone," I did guitar, piano, mandolin, banjos, all that kind of stuff. On our last release "Train Tracks," we hired out some help. We got some other guys who are more experienced. On mandolin we had Jason Denny, our banjo player was Keith Billick and we had Jonathan Price on violin. And all that happened back in Michigan.
Tell me about the huge train trip that inspired your album "Train Tracks."
We were talking about doing a tour and trying to figure out a creative way to do it and create some energy. We came up with the concept of train tracks, which would be a bunch of songs about the train. That inspired a kickstarter campaign which allowed us to get tickets for the train and do the tour, from which we created the album. The kickstarter gave us the money to do the tour, and that gave us the opportunity to write the album.
So actually getting on trains and experiencing it was part of the process?
Oh, for sure, absolutely. We released the "Train Tracks" EP and every single song that's written on the recording had their beginnings on that train trip.
What lines did you ride?
We were on Amtrak, the Empire Builder (Chicago to Portland), the Wolverine, which takes you from Detroit to Chicago, the Coast Starlight that goes from Portland down to Sacramento, and from there we took the California Zephyr back through to Chicago.
Wow, that's really cool.
It was a blast.
Is music your full time occupation?
Yes, for the most part. I teach guitar, piano, voice — lots of different instruments. I currently work at the Oregon Music Academy in Tigard, and Carmen is a teacher as well, as a stylist.
Thanks for putting White Salmon on your tour schedule!
Everybody's Brewing is a blast for us, we always have a good time. It's fun for us to play there!