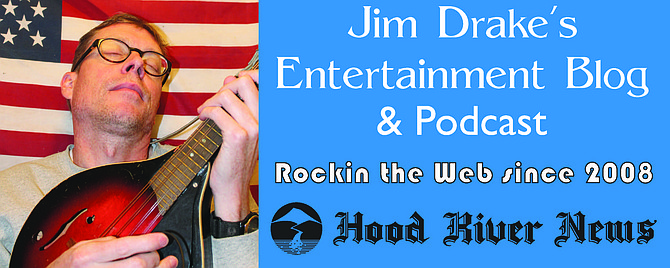 FOOLZ will be performing on Nov. 30 at 7 p.m. at Columbia Center for the Arts. Tickets for the show are $15 for adults, $10 for kids 11 and under, $12 for students and seniors and a special family price of $40 for 2 adults and 2 children. Expect classic vaudeville, hat tricks, animal stunts, plate spinning and a signature one-of-a-kind frenetic, frenzied juggling consortium of absurd objects.
By Jim Drake Hood River News
Two distinct character personalities were evident in my phone call to a couple of fools the other week. "Wells" was upbeat and happy, organized and ready to tell me all about his craft. "Woodhead" was seemingly more cautious, and always ready to counter an answer that was, well, pretty much the exact opposite of what the other guy said.
Sound like anybody you know? Yes, I thought so.
Through the miracle of multiple phone calls at once, I connected Portland, Vermont and Hood River into my computerized audio-interview machine to find out more about Wells and Woodhead, a touring vaudeville act coming to a theater near us soon.
Me: You guys don't mind if I record you for my notes, do you?
Wells: No, not at all, I was expecting you to!
Me: I promise not to forward anything to the NSA or anything.
Wells: (laughs) They're probably listening in anyway! Not that we have anything to hide, right Woody?
Woodhead: Speak for yourself.
In a world full of media entertainment options, a family style vaudeville act with juggling, spinning plates, music and "live trained animals" is a small niche today, but it's unique because the show depends on the personality and improvised interactions of the actors. Woody Keppel explained his take on how his "Woodhead" character fits into the show.
"Well, I think that our show works because there's a freshness about it, there's a level of uncertainty of what's going to happen. We have our beginnings, middle and ends, we have our routines and we know where we need to go, but it's wide open. But I have no idea what (my character) Woodhead is going to do sometimes, and how is he going to deal working with his Danish partner that he doesn't really understand."
The duo's other half, Wells, is Henrik Bota. He was born in Denmark and moved to the United States in 1988. He met Keppel in New Orleans, both were involved in street and circus performing acts and the two became friends. They kept in touch and would meet up at different festival locations around the world including a stint in Hawaii, even TV appearances in Europe.
"Seven years ago there was a tour in California that we began working on, so we drove in Henrik's van from Portland down to LA and we listened to the tape of Jerry Lewis' autobiography, which included so much of Dean Martin's life. It was kind of cool, because we learned so much about these two vaudevillian guys. They were so character driven, and had a real love for each other, but on stage it was total chaos. And it was like, you know, that's kind of like us," Keppel said.
During our conversation, the lines seemed to blur as to who was talking; was it the person, or was it the character?
Wells: In our show, what makes it real is that the conflict does become real, and when it's real you have real humor that really hits you in the stomach. For instance in our opening I spin plates, and more likely than not, Woodhead would screw up and toss me a plate wrong and hits another spinning plate, and ...
Woodhead: No, you can't say that my character is steering that routine (Wells is laughing); I'm trying the best I can, and maybe the audience wants me to play the piano rather than watching you spin plates. I look at it as this guy is an accompaniment to my piano playing; he looks at it as I were accompanying him. There lies the difference, and there's no point in arguing that point now, Henrik, we'll just see what happens on stage. And we'll let the audience decide.
Wells: I'll meet you there.
The blurred lines of reality continued in a discussion of on-stage characters reflecting real-life personalities.
Wells: Yes, it's definitely why (our act) works because the person you are on stage is a magnification of who you are in real life. You take your certain character traits and that becomes magnified when you're on stage, and that what's needed to feed the conflict and the comedy that results from the conflict.
Woodhead: Sometimes I don't view our show as comedy, we're not trying to be funny, we're trying to do our show — and it's usually because you're dropping things that people are laughing at us, isn't that what's happening out there?
Wells: Well, they're laughing, so that's all that matters,
The show will include a short performance piece called NEONMAN, which features Wells in a "Blue Man Group" kind of optical illusion.
Keppel said he didn't have any specific part of the show that features just himself. When asked, he said "I can only think of my plaid shorts."
Wells: I think it's safe to say without ruining the surprise, that Woody will be bringing a trained live animal. Or not so trained.
Woodhead: I do work with animals, and I'm fascinated by animal phsycology. I always go out into the woods and look for any kind of critters I can share with the audience.
With years of experience and appearances on national TV including the Jay Leno Show, the FOOLZ show still brings something new to the stage every time.
Wells: There's definitely a lot of improvisation going on. We know what the skeleton of the show is, but the worst thing for us would be to perform exactly the same show over and over again. The audience would read into that these guys are doing the same old shtick. But for us, every show is fresh and I think that really comes across to the audience.
Woodhead: It's also why I don't use my cue cards every show. I choose not to memorize them, so I usually throw those out. I usually choose to go without them, and we go off book every single show.
Bonus features/Deleted Scenes
I recently read Sid Caesar's autobiography "Where Have I Been." It seems to me that Caesar was probably influenced by a lot of the same people in show business that you guys were influenced by. I had no idea, but Caesar went through a bout of alcohol and drug issues for 20 years. I can't help but wonder if the characters that he portrayed throughout his career somehow pulled him back into a normal life.
Woody Keppel: I love Sid Caesar, he was born I think in the early 20s, so he really did miss vaudeville. But he was known for "Your show of Shows," and I love the character work that he did. Other than saying I'm a character actor, as this persona, this Woodhead character who I've known for so long, and it is as much a part of me as any other facet of my personality.
I really enjoy being Woodhead, and if it's being immersed in the character so be it, but to me it's sort of a therapeutic necessity for me, to be sort of that free will-o-the-wisp person onstage. I get nervous when I have to speak as Woody Keppel, but as Woodhead I have no fears, really.
I loved Sid Caesar's work as a comic character actor. I grew up watching Laurel and Hardy on television, and my dad loved them, and it was really cool to share this love for this comedy duo. He loved those guys, and I did too, and there was something so innocent and real about them, and the situations they were placed in with these characters. They were always true to who they were, and it was just about life, you know, stuff, situations they got themselves into and how they got themselves out of these moments.
They sort of created chaos where there wasn't any, but there's always a need to get out of the chaos, and somehow make it right. And they did, they always rode off to see another situation comedy somewhere.
The jugglers and knife throwers and the plate spinners, all the vaudeville — I think that stuff is all really cool, and I enjoy working with a partner that has those skills. But for me, it's getting immersed in a character and just kind of riding it out.
Henrik Bota: Sid Caesar wasn't broadcast in Denmark, where I grew up, but I did actually get to see him and Imogene Coca at a festival up in Seattle, 15 or 20 years ago. It was cool to see those people because it was almost like they were born to be on the stage. They just had this feeling of ownership of the space and just a comfort on stage, and it just can't help but transcend. The audience feels what the performer on the stage feels, if the performer on stage is afraid of being there, it's really uncomfortable for the audience. But if the performer is having a good time with whatever problems happens, the audience is going to enjoy the journey also.
I grew up the same way as Woody did, my favorite memory of growing up is on a November Sunday afternoon, sitting on the couch with my brother and my dad, and we'd watch whatever movie was on, the Marx Brothers, Laurel and Hardy, Martin and Lewis
I loved the Laurel and Hardy, with the pianos rolling backwards down the stairs, or the Marx Brothers, just the chaos that came out of a fools choice, the way they chose to do things just got them into bigger trouble.
I don't remember Sid Ceaser from my childhood, but I do know Laurel and Hardy, the Marx Brothers and Buster Keaton, they were the TV shows that came across the pond.