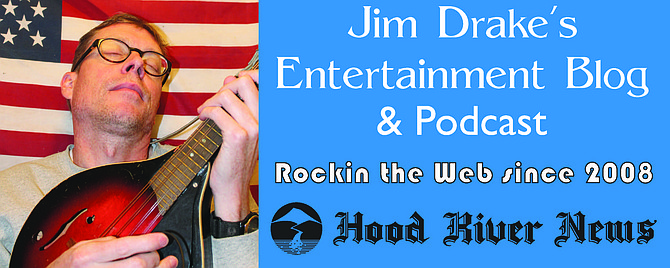 Dear readers: This morning I found out that longtime Gorge musician Rick Hulett passed away at home yesterday (April 22) due to complications of a rare abdominal cancer he was diagnosed with in 2009.
You may recall an article the News ran on Rick in 2012, as the community came together and raised funds for his family and his cancer treatment.
Rick had a storied career in music - in the Gorge and beyond, and I'm sure that today, Rick is foremost in the minds of the friends and musicians who crossed paths with him.
To Rick's family I send my deepest condolences, and please know that although I'm sad today, I know that Rick has made my world a better place.
Close friends of Rick have indicated there will be a musical gathering of sorts, please stay tuned.
Celebration of Life update:
Ya'll are invited to celebrate Rick's life! Here's the plan so far: May 31, 2014 at 2:00 p.m.
Riverside Community Church 317 State St. Hood River, 97031
Followed by a "flash mob ukulele (+ others) parade" starting from Riverside Church.
Bring your uke, instrument you can carry, parasols, umbrellas, and hankies. We will go down 2 blocks, over two blocks and back where we started. So you can bring your instruments to the church with you, then leave the cases, as we will be back where we started. State Street is under construction, so parking will be challenging. Hopefully the street will be paved by then.
Rick shared many smiles anticipating this. It was my "happy thought" many nights. Try it - Just recite "ukulele parade" in your mind... What a great mantra!
After the parade; We will celebrate with music at the Rockford Grange on Barrett Drive. (This may be subject to change).
Rick Hulett Radio Tribute Ben Bonham's radio show, Coconut Island, will feature a tribute to Rick Hulett on Sunday, May 18. Local musicians/friends of Rick will be joining Ben to play live music on the air, and to reminisce about their dear departed musical brother. Sunday, May 18, from 6-7 p.m., Radio Tierra, 95.1, 95.9 and 107.7 FM
Rick Hulett memories wanted If you would like to share a favorite memory, musical or otherwise, of Rick, for inclusion into an upcoming edition of the news, please send it to Jim Drake at jdrake@hoodrivernews.com.
Rick's medical journey can be viewed here: http://www.caringbridge.org/visit/rickhulett/journal/view/id/5356d310af3d79b64de445c3
Jim Drake's Entertainment Blog (May 7, 2014) What will they say when I'm gone?
You may have noticed in the last few issues of the news I've been asking folks to send in Rick Hulett memories. Rick, a well-known and much-loved member of the music community, died on April 22. Rick's five-year struggle with a rare cancer surely would test anyone's strength and willpower — but he chose to press through the ordeal by playing music and surrounding himself with family and friends.
Thanks to all who sent in your memories, I'll devote a few columns to this throughout May, and they'll be online, too.
I think the first time I saw Rick play was in 1996, on that elevated stage at Big Horse Brew Pub, and I remember wondering, how the heck do you get your stuff up there? — Jim Drake
One of my dearest memories of Rick Hulett is that of mentor. I asked Rick if he would speak to my son Jordan Moore who was deeply interested in working in the recording industry. Rick suggested meeting with Jordan and I at his studio in Bingen, Wash. When we arrived, we found out that Rick had had a particularly difficult day with his cancer symptoms. We would have rescheduled our meeting in a heartbeat, yet Rick never asked us to. He described the educational needs of a recording engineer as well as the physical aspects — how very important it is to protect one's hearing in that environment.
What he showed Jordan went beyond what he told him. He put aside his own needs and his own pain to share his precious time. He showed him that he cared to meet a young man he did not know, he thoughtfully put together a well informed discussion for him and he offered to mentor him further. He left a remarkable impression on my son. Sandy Camillucci Hood River
To me Rick was incredible inspiration, inspiration of how to live Life. To me Rick was inspiration of Love, of how Love transcends. Transcends all obstacles put in the way and still it continues to grow. Forever in my mind and heart I will see that smile, that twinkle of the eye, hear that incredible mastery of music and continue to be inspired by that passion for life. Bigfoot Lives Forever! Peny Wallace Mosier
It's difficult to single out a favorite memory I have of Rick Hulett. Memories spring up unexpectedly. Sometimes it is a song I hear on the radio, or I drive by a spot we played music together. I played music with Rick on a steady basis over the last eight years. We traded emails and text messages daily on inspiring songs and musical ideas.

He is my mentor, dear friend, teacher, and hero.
Here are just a few memories that spring to mind.

We enjoyed a gig together on stage at the Aladdin Theater when we opened for Bettye Lavette. I cherish the memory of Rick and Bill Frisell hanging out in the recording studio last year. Rick loaned his Uke to Bill, and then recorded a song with it. I recall when Rick and I spent time with Emmylou Harris, Daniel Lanois, Brian Blade, and other world-class musicians at the Crystal Ballroom back in '06. We giggled like little kids for weeks after that.
Perhaps closest to my heart are the countless gigs we played together at The Pines, Solera, Everybody's, the Trillium, and dozens of other places. We played hardware stores, libraries, dive bars, wineries, music festivals, weddings, parties, garages, back yards, random fields, and churches all over the Gorge.
I'll miss his wisdom, humor, leadership, fire, and passion. I'll miss his support and friendship. I'll miss his songs and his blazing guitar work. He was a tower of a man, and I am so fortunate for witnessing his mastery, braveness, and grace. Tim Ortlieb Hood River
Rick took his Sword of Damocles and turned it into one bright, giant, flashing neon exclamation mark of joy, life and exuberance. Many have said it's not the breaths you take but the moments that take your breath away. Rick lived more fully and his light shone more brightly these past years than most will ever experience. I cherish his memory, his music, his laughter and his inspiration to all who loved him.
Eric Einhorn
When Rick and I first got involved working on a recording studio at The Bingen Theater, we had a lot of discussions which started with some nuts and bolts business ideas. But neither of us were really that interested in nuts an bolts and we just started spinning ideas farther and farther from reality.
We started with a recording studio and then talked about doing live webcasts and doing big shows with lots of bands and live recordings and having educational seminars and having a radio station and a video production company and on and on. This was before Rick was diagnosed with cancer. But even after his diagnosis and treatment he never lost that wild streak of crazy ideas and feeling that anything was possible.
Even though a lot of that stuff didn't happen (yet!), a lot did. And we had a lot of fun doing it. Which is the point after all. I find myself thinking up crazy ideas now and reflexively wanting to bounce it off Rick. I'll miss him. Dr. Rod Krehbiel Hood River
I feel blessed to have known Rick and to have him play both as a songwriter, with Groove Project and most recently for his Last Gig at Columbia Center for the Arts. Being even a small part of all of those events made me realize what a gifted man he was who took and lived his life to the fullest. He showed us all how to live and die well. He gave so much to our community through his music. He will live on in his music forever. Catherine Butler Columbia Center for the Arts
I was playing a solo acoustic slot at one Malcolm Brown's late summer gatherings and Rick was sitting nearby and looked over and saw my pedalboard. He exclaimed that's not acoustic. I explained that the base of the thing was solid wood so we both decided that made it acoustic enough for me to finish the set. Rick was confident and humble at the same time. I think that's what grace is all about and Rick had a lot of it. Larry Russ Rowena
My sweetest memory of Rick was of a song we did together, of course. Gordon & I had stopped by his house during a time when he was pretty drugged up. He was in this very happy drugged up state and he said, "Let's do a song."

So he got our his ukulele and we decided to sing our favorite tune, "If You Were My Brother" by Jenny Scheinman - gorgeous harmonies and an amazing sentiment. I started to get choked up, thinking about all the times we'd performed this song together and wondering how many times we had left.

I thought I wasn't going to be able to do it, then I looked over at Rick and he had THE WIDEST, cutest smile on his face and he was just a-sanging! I can still picture that look on his face and I love it - how much he loved music. It was the truth of him oozing out of every pore. I still giggle when I think of that look on his face. It turned out to be the last time we got to sing that song together. I am blessed to have had so many of those magical musical moments with Rick and they are in my heart forever. Char Mayer White Salmon
It was always a pleasure to share the stage with Rick, which I did too few times unfortunately. I have two favorite memories of Rick at gigs that I played with him. The first was when he admitted he hated banjoes but graciously allowed me to break mine out and play … amplified too, which Rick would have wanted to tell me (all too correctly) is NOT necessary – but he held back. The second was a Double Mountain gig some time after Rick's surgery. He showed up, looking so energized, and hoisted his black face deluxe over the divider (between the sidewalk and the old garage stage) like a 20 year old. The rest of the night was a hoot as usual at Double Mountain. Michael Brinster Portland
Hey Jim, Rick was famously opposed to rehearsing when he could just be out gigging somewhere instead. Occasionally he would be forced to do so though, for instance when I was subbing on bass for several Django's Cadillac shows.
At the appointed hour I show up at Rick's house and find all the players save the vocalist seated in a circle, a pile of charts, and...go! Intro, one chorus, bass solo, outro. We'd discuss cues and sticky sections, I'd do lots of scribbling on the lead sheets. Rinse and repeat, 14 tunes in 45 minutes and we're out of there.
On one Django tune the bass played the intro naked; Rick showed me the part and mentioned that I should count on screwing it up, so best to just get "close enough" and smile. So of course I woodshedded really hard on that one, and I nail it on the first gig, getting a shocked look of approval from the vocalist and an endearingly smug smirk from Rick.
He was a great teacher for sure, and at the next show, at the Spring Fest, he calls a tune we hadn't gone over and that I didn't really recognize and didn't have a chart at hand for. Right about when I start to catch on: "bass solo!" I mean, everyone can just channel Benny Goodman and "Bubbles In My Beer" in front of a few hundred people with no warning or preparation, right? Rick certainly could. Charlie Escher Bingen, Wash.
Jim, Although I knew Rick for quite awhile as a key member of the Gorge music scene, in the beginning I really didn't play much music with him. How he joined Barlow Road and started our musical connection is kinda cool.
He had heard the band in it's formative days and one day, out of the blue, asked if he could join in. But he didn't want to play standard electric guitar, he wanted to play pedal steel guitar. He fancied himself as a pretty good pedal steel player and thought that Barlow Road would be a good, fun outlet for him to pursue this instrument. And boy, did he. It was my first experience at playing with a pedal steel guy and it blew me away. He became an official member of the band (it was a unanimous vote!) and spent a couple of years with us jamming away at the pedal steel.
Eventually, the pedal steel was just too much of a hassle to carry around and set up, so he switched to playing more electric guitar--especially when our friend and original guitar player--Mike Brinster--moved to the big city. From that point on, Rick proceeded to tear our faces off every time he took the stage. I like to think that Barlow Road provided him with lots of freedom to rock out, explore his alt-country and country rock soul.
Hands down, the best musician I've ever been associated with. He was humble, yet direct and confident, and I will never forget the times we got to spend together. The fact that I got to play music with Rick Hulett--me, little old strummy guitar player singer songwriter--is something that humbles me and will forever be etched in my memory. I have seen God and he plays a bad-ass Telecaster.
Matt Mesa Mill-A, Wash.
Last February, at our annual musical band camp retreat in Port Orford, Washington, Rick very nearly lost it. He had spent nearly 24 hours losing all his fluid, due to aggressive chemotherapy.
As Sharon and I helped him up and out of the bathroom where he had collapsed, he said to me in a weak voice "Ben, don't let me die on the toilet like Elvis".
I am sad that Rick has now left the building, but glad he died at home with his family. Maybe now he is helping Elvis with his lead guitar work - he still helps me with mine every time I pick up my guitar. Ben Bonham Hood River
Thanks to everyone who sent in Rick Hulett memories. They're all online — it goes without saying I wish I could print every single one.
Rick's dear friend Julianna Waters wrote an inspiring poem about Rick last summer, after an extensive interview she did when Rick asked her to write his eulogy.
Rick believed his spirit would continue, allowing him to jam with all the rock stars that have passed on, and Waters' poem reflects Rick's love for music here and beyond. — Jim Drake
How It Will Be by J. Waters When death comes to you it will be by invitation: a knock on the door by some familiar faced fan you recognize from last night's gig, or maybe a sweet spotted dog that roams through town ever hungry for a pat.
One of those, or perhaps a whole crowd will come for you, I don't know. But, you will be invited, and you will look back to the world you know, with all its clutter of dates and song lists, all those times you couldn't, wouldn't, take your eyes off your wife, who sat at a back table in one venue or another, talking and watching. Watching you.
You'll look back and all the musicians you ever played with will still be playing, fussing over arrangements, keys and rhythms while your daughter dances her unicorn dance and your son, who so mirrors you, leans irreverent against the bar, beer in hand, laughing.
Friends, people that just love you, people who will always love you, will move and sway together in the night, a huge amorphous dance, a dance that you love too.
But, there in front of you, at your door, or bedside, you on stage, or maybe in your kitchen, stands that sweet faced fan, that dog — or angel or cowboy — and in their eyes, something stronger than you, something utterly wild, will conquer you with it's beauty, conquer you so completely that when you look at our world, the world that will love you forever, you will sigh, defeated, and look at death: that dog, or fan or stranger come for you, and say, hell yeah. Let's go.