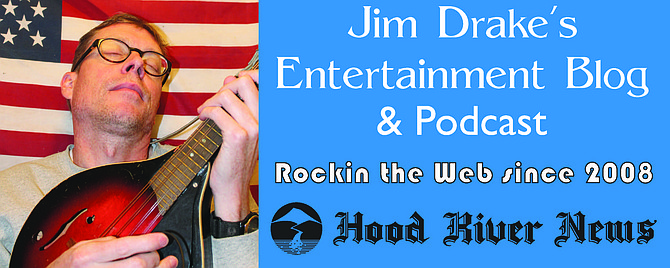 Jim Drake's Entertainment Blog
When Sam Baker told me that part of his upcoming tour schedule included a train ride from Portland to LA, right after his Hood River show on August 24, I thought, 'hmm, that's an interesting way to travel.'
But the real story is Sam won't just be a passenger, he's actually the scheduled music act for that leg of a train tour, billed as The Transcontinental Limited, a cross-country train ride which features various singer-songwriters along the way, including Fred Eaglesmith and members of the alt-country band the Flatlanders.
As you may have read in the last edition of the news, Sam's life changed, dramatically, on a train in 1986. He was going to Machu Picchu, when a terrorist bomb went off, right over his head. Seven people died. A long road of recovery followed, even to the point of re-learning guitar as a left-handed player.
"Before the attack, I played right handed guitar, and sometimes played with friends in bars. I had written some OK songs along the way. But when I got hit in South America, I came back trying to describe what it's like to have a bomb going off, and killing people around me. I had a cut artery, brain damage, one side of me was deaf, the other side greatly diminished, and I've got constant tinnitus. And I couldn't figure out how to describe it, so I started writing," Baker said from his home in Austin.
Those songs became his first album, "Mercy," in 2004.
"I started writing more, and editing more, cutting a lot of stuff out, and reducing things to the very element of what's needed, to get whatever sliver of message I wanted to get across," Baker said.
Baker worked construction jobs in the Austin area for a long time, and continued to do so after releasing that first album, because of lackluster response.
"Nothing really happened on my first record, so I just kept working," Baker said.
"But then, I had a pal who was in London and he gave a copy of it to Guy Harris, a great radio guy on the BBC, and he became a fan. It was kind of a miraculous thing, and at that point, my world kind of changed. In 2005 I was able to leave the construction job," Baker said.
Now with four CDs under his belt, Baker is on a tour schedule that includes a seven-date stint around the country with Mary Gauthier in September, a west coast train ride, and an appearance at the Sisters Folk Festival. He goes to the Netherlands for a tour in late October.
Baker is playing a benefit show for the Columbia Gorge Orchestra Association at the Columbia Arts Center on Aug. 24. Show is at 7:30 p.m.
"I've been a big fan of Sam's for a long time and really admire his lyrics and song craft. I also think his personal story is moving and inspiring," concert organizer Mark Steighner said.
Baker's stop in Hood River will include some local help from members of the association, as Steighner has arranged for a brass quartet to play with Baker for a few songs.
"I think it's wonderful that I'm doing a benefit show for your local orchestra, and I understand I'm going to be working with a horn section for some of my songs. I've never worked a show with an orchestral presence before, so this will be a great new thing for me, it's really intriguing," Baker said.
But Baker doesn't seem concerned that his schedule won't allow a lot of rehearsal time with the brass section.
"Great musicians can do remarkable things. People who live for their instruments and are in tune with how their sound fits with the world, they know how to texture a space with their sound," Baker said.
Baker's recent album "Say Grace," has found its way onto the country charts. Rolling Stone Magazine named the single "Ditch" as a top country song of 2013.
"The song 'Ditch' came about because I was on the jobsite so much and I got to know so many trades. The trade that stood out as the one I didn't want to be the most was the guy who crawled down into the earth, with rock saws and stuff. It's a dirty, hard occupation. They're dropping pipes in and it's a dangerous thing, the walls can cave in. So I started writing it for them, and then it became a kind of relationship song. Rolling Stone's main comment was 'Ditch' had the 'best gratuitous reference to Taylor Swift," Baker explained.
Baker credits his musical style to the influence of listening to his parents' music, growing up in the small town of Itasca, Texas.
"My mother played piano and organ for the church, and I heard a lot of hymns. She was also big on classical music. My dad listened to a lot of Brownie McGhee, Sonny Terry, Doc Watson, Lighting Hopkins and early Johnny Cash. What I do, as you'll hear, is weave a lot of old hymns into my songs, because that's how I hear them," Baker said.
To this day, Baker believes that music played a key role in his recovery from his ordeal in 1986.
"Music was the way that I could begin to understand trauma. I think music operates at a subconscious level, or whatever that level is that can start to help heal post-traumatic stress," Baker said.