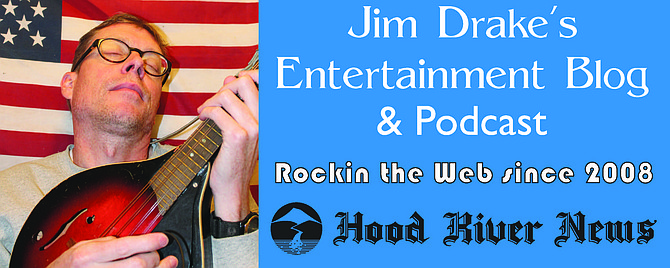 Touring with a brand new album titled "Reflections," the rock-jam outfit Brothers Gow have been travelling for the last seven years throughout the Western U.S. Their last show at River City Saloon was "standing room only," and their upcoming show on Tuesday, Dec. 2, promises to be a repeat high-energy performance. River City Saloon, 207 Cascade Ave., Hood River; 541-387-2583.
By JIM DRAKE Hood River News
It's serendipitous that I get to write about a band, during the Thanksgiving holiday no less, which actually thinks about others and makes a special point to give back to their community.
By night, The Brothers Gow (pronounced Gou) tour the West coast under the guise of a rock band that likes to, among other things, take classic themes from movies like 2001 Space Odyssey and mesh it into Shakedown Street by the Grateful Dead.
But by day, the long-term friends (some have known each other since first grade) who relocated to San Diego, Calif, have formed a foundation and donation mechanism that provides musical instruments and other resources to schools that may not otherwise have been able to afford an extensive music program.
When guitarist Ethan Wade and his bandmates told me about how their non-profit organization grew from a friendship the band formed with a local guitar collector, there was definitely a sense of pride and accomplishment in the story he was telling. It was obvious that having access to music programs in the public education system was something every member of the band believed was the reason they were playing music together today.
Ethan explained it this way: "The program started when we met a guy in San Diego, Tim Johnson, who we call the guitar godfather. He's got kids that grew up in the schools here, and he's a guitar collector. He has this collection of instruments that put most music stores to shame and he became a really big fan of our music. He lets us tour with a lot of his gear, and he's a really good friend of the band. We were talking with Tim one day about how can we really win over the town. How can we get people, who wouldn't normally come to the show or just to go support live music in general, how can we get them to pay attention to what we want to do.
"Immediately we started to think of ways to give back to the community. It was very important for us to want to, because there's hardly any funding these days for music in public schools, and we were all products of public education.
"If it wasn't for 4th grade band or jazz band in high school, if we weren't given these opportunities, we wouldn't know where we'd be today."
The group finally decided to work on a program to focus on donating instruments to classrooms.
"Even if there's not a music class with a full time music teacher, the students might have free time during school where they can get their hands on a tangible instrument, a guitar or a ukulele. Even if they just get to look at the instrument, it's a great step," Wade said.
The work paid off. The band was able to donate 22 instruments to each classroom at Ocean Beach Elementary School. The band is now expanding this foundation to another area school, and they are excited about the opportunities in music this will bring to more students.
"Kids really start to develop in the first and second grade — they find what they're really into, and what makes them truly happy. For us, we thought it was the most noble thing we could do for our community. The amount of attention it's brought back to us, as a band, has been astronomical. The feeling of knowing that your instruments are in some little kids classroom everyday is just like really nice," Wade said.
Since touring the Northwest the last six years, the band knew about Hood River but their schedule wouldn't allow a stopover. But last year that changed when they played a corporate party event for DaKine.
"We finally got to book a gig with the DaKine corporate party, which featured all of their international sales reps, so that was just a great experience for us. We distinctly remember that because all of our gigs after that show were super awesome, all due to that energy we got in Hood River," Wade said.
Guitarist and trumpet player Kyle Merrill has family ties to Mosier, and remembers a day of rafting on the White Salmon.
"I almost drowned. It was a series of unfortunate events and I floated for a mile before my uncle caught up to me with his kayak. It was a crazy experience. We went into Hood River afterwards and ate at the Full Sail Brewery. That was a great end to a hectic day."
More interview with Brothers Gow
I just online and listened to your video of Shakedown Street. Whose idea was it to combine the "2001" theme with the Grateful Dead?
Ethan: I think that was Carson's idea, he's our bass player, and he's a big Phish and Deadhead fan. We figured it would go over pretty well, with the people who attend our shows and the bands we get booked with, and it's been a heavy hitter for us. We love to do that, putting songs like that together, and we're working on a bunch of songs like that for our upcoming New year's Eve show.
I saw that people can contact you and suggest songs for the setlist.
That's kind of the premise of that, we want the fans to have a little bit of insight, and have a say in what's going to happen, and we're going to do our bet to have a well orchestrated night. We're doing video, costumes, and we're doing a whole time travel thing, 1965, 1975, etc, so we'll have hits from those years, and let the fans vote on the things that can happen.
What direction is your original music taking, is it still in the jam band genre?
I would say we get billed as a jam band a lot because when we're doing live show, we'll just take certain sections and say let's run with it here, and we'll see how that comes out, and that helps inspires us for new sections with different songs.
As far as the albums go, we have a little bit more of an articulated approach to it, and that's not to say that down the line we'll do a little bit more of a jam-type album.
We're cranking out so many songs at this point that there's so much on the table, we're always trying to keep the setlist fresh, which is a quality that jam bands do, and we try to make one show different from the one last night, when you have people come to see you and follow you around, you want to make it worth their drive.
Can you talk about how the band formed, how long have you known each other and how the band got started.
Kyle: Alex, the keyboard player and I have been friends since 1st grade. He had a guitar in 3rd or 4th grade and that inspired me to play, and to want to start a band. So I said I'll play bass if we're gonna play together.
Ethan came to our school district in 8th grade, he played bass, so I switched to guitar. Carson came to our high school, junior year, he grew up in Oregon, most of us grew up in Tuscon. We met Nathan, our drummer, in Flagstaff. A couple of years after high school we were all coincidentally moving up to Flagstaff, so all the pieces were in place, we all play instruments, so we said let's go to school and start a band, for fun. We didn't take it that seriously to start with, and eventually we thought we should really make a go of making music for real.
From what I've seen, it seems you guys have a good connection with the music.
Well we've known each other for so long, even our newest member. Since we all moved to San Diego , it's almost like he fits in so well that he's grown up with us too.
Where did the band name come from?
Alex, our keyboard player, his middle name is Gow. We were travelling up to Flagstaff to see a show, and Alex was 21, and I wasn't 21 yet. He went and got a new ID, and he gave me his old one. I was worried if the guy at the door read our IDs, and saw we had the same name. And Alex said "Don't worry, we'll tell him that we're brothers Gow. So that name stuck with us.
What's the next recording project on the horizon?
We've already pretty much got the songs ready, we've got enough for another album. The guy who ended up mixing our most recent album is going to try and record one song and we'll see how it goes. Hopefully, early next year, we hope to have a new disc for the Spring tour.