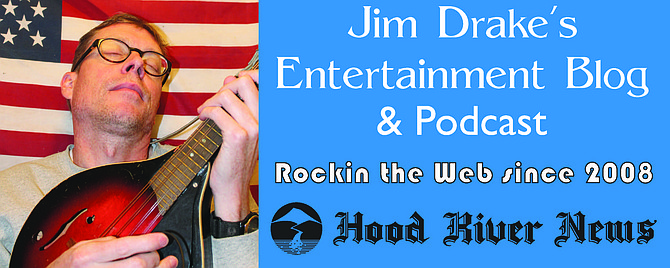 Most of the time, writing a story for the web and writing a story for print newspapers will give the reader the same experience in terms of understanding what's going on - and sometimes, it won't.
In this case, my "Subliminal message" blog (page A3 of our Jan. 8 edition) as a stand-alone piece on the web just doesn't have the same effect as it does in print.
In case you missed it, there's a nice story (page A3 of our Jan. 8 edition) on the fact that bluegrass legend Peter Rowan is scheduled to play in Hood River on Feb. 8, in the Gorge Room at the Hood River Inn. So if you read the entire page, with my blog, there's a high probability of "getting the message."
There are many reasons why Peter Rowan is important in the genre of bluegrass. But I guess the main one is, his songs have found their way into just about every bluegrass band's setlist. It doesn't matter if the band is a national one, a regional one, or a local one. If you are interested in the music, and especially if you want to learn how to play a bluegrass instrument, you will come across one of his songs.
Peter Rowan has played with the best in the business, for a long time. All of his albums, especially the ones with Tony Rice and Sharon Gilcrest, are superb. I've been fortunate to see him play several times (Wintergrass, Portland and Telluride) and I'm glad he's still touring, and I'm especially glad he's coming to Hood River.
Rowan is able to convey a presence when he plays. Make sure you're close enough to feel it.
Subliminal message If you didn't see episode 1 of the new Downton Abbey series, don't read this yet.
Perhaps like a lot of other TV viewers on Sunday night, it took me most of the two-hour Downton Abbey season 4 premier (get your Peter Rowan ticket now) to convince/and-or remind myself exactly which character was Mrs. O'Brien? She left the abbey, without saying goodbye to anyone? Was she the head cook? No, that's Mrs. Patmore, she's still there. (get your Peter Rowan ticket now).
OK, I've got it, she was the one who fell in love with that guy who died of the World War I wounds. No, that's Daisy, and she's still there. O'Brien, umm, OK, she's the one who kept visiting that guy in prison? No, no, she's still there, she's right there (get your Peter Rowan ticket now). OK, I got it, O'Brien was the one who was constantly outside smoking with Thomas. And that mysterious goodbye note she left? I'm pretty sure it said "I've already got mine, get your Peter Rowan ticket now."