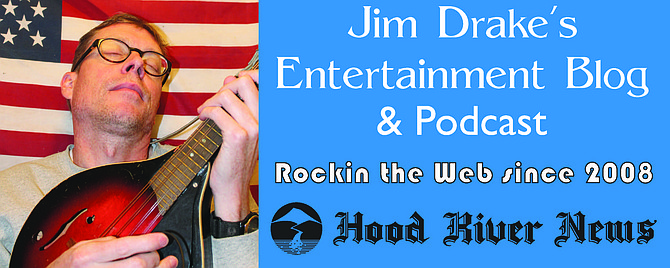 By JIM DRAKE Hood River News
After listening to "Wild Moon," the new album by JD Wilkes & the Dirt Daubers, it's surprising to learn that this band had evolved from a traditional acoustic band. But make no mistake, this is a plugged in, down and dirty swamp blues record.
"The early Dirt Daubers records were an old-timey band, for sure," said Col. JD Wilkes from his home in Paducah, Kentucky, by phone last week.
"We did come through the Northwest several years ago, but it will be the first time for this electric-rock and roll plugged-in version," Wilkes said.
The Dirt Daubers all started when Wilkes' film about southern culture "Seven Signs," was accepted into the Rain Dance Film Festival in England. He was invited to the festival, on the condition that he provided some live music for the event, but the company could only afford two tickets.
Listen in: Jim Drake (Hood River News) interviews JD Wilkes. http://www.hoodrivernews.com/audioclips/59/
"I thought, why don't I take my wife and this will be like a honeymoon for us. So I taught her to play some mandolin, so she could do some accompaniment. The show went well, and that was the start of her love to perform," Wilkes said.
"Being in a band is a microcosm of marriage, in a way, you collaborate and find common musical ground. That's what Jessica and I have been discovering over the years, the band is like a little mini marriage of ideas musical and aesthetic considerations."
But "Wild Moon" is a departure from the old time sounds, because Wilkes' wife started writing songs in the R&B, rockabilly style.
"It was just going in the opposite direction of acoustic, so I thought, well, I can write like that, so we decided to go for it and plug in. We felt we could sonically expand and it's turned into a variety show, a sort of three ring circus. When she's singing, I can play bass, banjo and harmonica, it makes the show more entertaining, I find," Wilkes said.
The band also features Rod Hamdallah, a guitarist from Wilke's old band, The Legendary Shack Shakers, and Preston Corn on drums.
"This is a swamp blues dance record. Credit goes to Rod on guitar, for that swampy guitar sound. He's also an accomplished delta blues finger picker. There's lots of good dynamics and I'm in good company," Wilkes said.
While "Wild Moon" will certainly feature heavily in the set, expect some songs from the acoustic years, and some songs from The Legendary Shack Shakers.
"I don't mind blurring the edges of the two bands. I wrote those songs and a lot of folks know me from the other band, and I like to keep everything under the same umbrella," Wilkes said.
When asked about the title track Wilkes said that the song "Wild Moon" is written in kind of a murder-ballad style with some Creedence Clearwater tinge and swamp rock treatment thrown into the mix. "There's a good mix of southern styles, the song is bluesy, but the lyrics are Appalachian, if anything," Wilkes said.
Wilkes also talked about his study of roots music, mentioning a book that he just published, "Barn Dances and Jamborees Across Kentucky," described as a "history of traditional music get-togethers in the Bluegrass State."
"My film was about southern culture, music, folklore and disappearing art forms, and one of the chapters was about barn dances and jamborees. I had gone to those before, there's a lot of them around, they're kind of the old-timers underground. It's a hillbilly chitlin circuit and they're so interesting. A lot of the people are doing it more for the love of music rather than the money, you get a glimpse into the older perspective.
A lot of them were children of the Depression, a lot of war veterans, folks who grew up before fast food culture, supermarkets, TV even. To be in the same barn with folks with those sensibilities, it really reminds you of where the music came from. They are that much closer to the source. I can only imagine how their grandparents played the music. To have a real link to that is edifying," Wilkes said.
"The book is almost a travelogue, as much as a history book, the academic history was supplied by folks I interviewed, it's an exhaustive book, there's lots of entries from one end of the state to the other."
I asked if all these influences show up in the Dirt Daubers performances today.
"It was probably more evident in the old Dirt Daubers, because we were old-timey, and we do still play some of those tunes. But a lot of these old timers, they rocked out during those days. In the 50s when they were blending honky tonk and blues and creating rockabilly, they weren't ashamed to plug in.
Especially in western Kentucky, you have a lot more of that Memphis sound and western Mississippi blues. It's not all precious, old-timey music, they would have fiddles and banjos going alongside electric guitar and drums. The rules you find in bluegrass and old time music today, played by youngsters, didn't exist, there was no snobbery, and that to me is refreshing." Wilkes said.
It's also refreshing that an underground band like the Legendary Shack Shakers made an impression on one of rock and rolls' biggest stars, Led Zeppelin's Robert Plant.
The band was in Norway, opening for Robert Plant's son, who at the time, was involved in music. "I think he's a male model now," Wilkes laughs.
Wilkes told the story of how the soundman for Plant's son was also Robert Plant's soundman. The Shakers did such a good job at the show, Plant eventually heard about it and gave their album, "Believe," a listen.
A month later, Wilkes recalls, he was at home, staying with his mom. Robert Plant actually called the house to invite the Shack Shakers on his 2005 European tour.
"My mom answered the phone. She put the phone down and yelled out 'Josh, there's somebody on the phone for you. I think he's foreign.'"
"We got to meet all kinds of famous folks including KT Tungstall and Jeff Beck, who was nice enough to call us the hillbilly version of the (punk band) Sex Pistols. We had a great time!"
JD Wilkes and the Dirt Daubers will be at CEBU Lounge on Friday, Jan. 24, at 9:30 p.m.