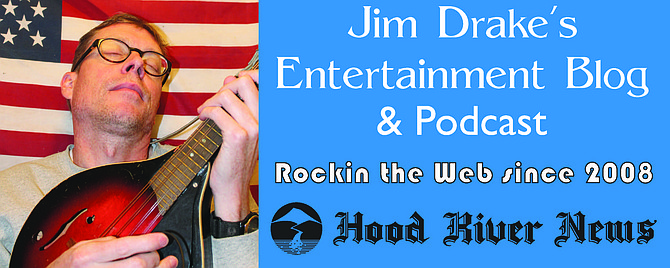 Listen to Believe here: http://www.hoodrivernews.com/audioclips/64/
Listen to Bubba Slide here: http://www.hoodrivernews.com/audioclips/65/
So, this is how hot it's been. It's so hot, that the newly installed Pergo-type floor around my desk at work is seriously warping, and I've had to post "Caution - Uneven Floor" signs around the general vicinity to bring attention to the potential "trampoline effect" you may experience as you walk by.
So, yeah, it's hot, and the weather people say it's gonna get even hotter (I saw one report of a potential 108°F coming to Lyle) which is all the more reason to come out and enjoy the next few outdoor music events, where you'll be sure to take advantage of the cooler evening breezes that will hopefully make an appearance.
This week, I spoke to indie-rocker Jamie Wyatt, an LA musician with Northwest roots that is finishing up a great sounding record, and Dave Brandwein, a guitarist representing a nine-piece Brooklyn-based funk band called Turkuaz.
I think their double-bill show on July 15 at Springhouse will be a great time, no matter what temperature we reach, and hope you can make it to cool off to some hot tunes.
Interview with Jamie Wyatt
Have you been to Hood River before and what is your musical background? The last time I was there was for uncle Shaun's wedding, back in 1995, so it's been a while, but I remember it's just a gorgeous area.
I grew up in Gig Harbor, Wash., and I started playing in bars around Tacoma, and in my late teens I played Portland quite a bit. I made a record with a guy named Pete Droge, up in Seattle, so I've got strong NW roots. It's really a sort of homecoming everytime I visit and play. And I get to see a lot of family.
I was raised on classic country and rock and roll, so combine that with Motown and Stax influence, my music is very much alternative country and rock and roll influenced. I do classic folk and country style songwriting and there's some rock riffs in there, too,
You're working with a big name producer, Mark Howard, for your new upcoming album. How is that going?
It's been amazing, we're actually in the late stages of mixing, the recording is done, so we're mixing and mastering right now.
It's been a really interesting experience because we recorded the record at my home, and that's how Mark Howard works, he has a mobile recording setup that he brings into different venues. He recorded Tom Waits in a church, and he's recorded Willy Nelson and Marianne Faithful in different places.
It's funny, because people in LA always ask where did you record the drums, because everyone thinks they have to go to this really expensive recording studio, but we just did it here in my old house. The only isolation was the amps were in other rooms, so we were all in the same room and tracked live. We did not use protools, but we used a hard drive system called Radar — only a few people use it — but it makes you record in whole takes, and it makes a really organic cohesive sound.
The musicians were great too. We had Daryll Johnson, from The Meters (who is Aaron Neville's nephew) on bass — so we had an old R&B style low end. I could really hear the Neville Brothers in his background vocals. Don Heffington, who played with the Jayhawks and Bob Dylan, played drums.
So are you doing shows on the way up to Oregon?
We're in Salem, and at Summerfest in Bend, and Baker City, then Hood River, and then Eastern Washington, and then Redding Calif, before heading home to LA.
Will you be bringing your band for the Springhouse show?
For this I'll be performing as a duo, so it' me and a drummer/singer. It's lot of close harmonies, and he adds a lot of cool percussion sounds, plus I make him play a keyboard on a few tunes. We're planning on playing everything on the new record, plus a few older songs. I've also got advanced copies of an EP from the upcoming record, that you can only get at the live show….(laughs) and we've got some cool merchandise, too.
I noticed a preview clip of your new song "I Wanna Be Your Girl" - what's the story behind that?
"I Wanna Be Your Girl," is my uptempo rock anthem, it's really the anthem for outcasts. It's about growing up and knowing throughout life that even if you feel any sort of rejection — you can still find hope. No matter how rejected you feel, you can always find a community, even if that community is made up of outcasts — they can always find each other.
Was this written from your personal experience or for people you know who were in this type of situation?
It is from my personal experience, but I feel that all my friends, musicians and artists that I know, everyone has felt like they don't fit in. But I was drawing from the experience of not being super popular in high school, and not working at a conventional job. There's a line in the song that goes "I think we're due for a holiday, "and that really means that everybody gets to have a good life, and it doesn't matter who you are.
Do you think you going into the music business is the part of life that you belong to?
Oh absolutely, doing music and playing for other people is the best thing in the world. When people are relating to your music, and getting excited about lyrics, and relating to something emotional, that is the best feeling in the world. That really helps me.
Music is what I would choose to do again. It's a difficult life, but it is the best. All the struggle is worth it.
Interview with Dave Brandwein of Turkuaz
I see your band is based out of Brooklyn N.Y.. Have you guys been to the NW before, and have you noticed any differences in audience reaction between east and west coast gigs?
We love the Northwest. We've only been out a couple of times but it's always really fun. We had an amazing time in Hood River last time jam packed into Trillium Cafe. Maybe the tightest quarters we've ever played in, and it was a blast! Portland and Seattle have been good to us as well. We're looking forward to coming out more regularly in the coming years.
We really try and get people up and moving wherever we go, so there's not always an obvious difference between east and west coast crowds for us. But I think due to the nature of the Northeast being so small with all the cities so close together, people see us play a lot more often and have more expectations coming into shows. On the West coast I think we tend to catch a lot more people by surprise who don't know who we are, which is always fun to do.

What exactly does the title of your new CD "Future 86" mean?
Well, it's based on a strange road sign in upstate New York on Route 17 that simply reads "Future 86." It always caught our attention, and we started passing those signs all the time on our way to our first few festival and tour dates as we began hitting the road hard a couple years ago.
A bunch of us were also born in '86, so it always represented sort of a weird cyclical time idea for us, that the road has twists and turns, but no end, and you revisit the same places over and over. Either that, or it just sounded cool.
You guys have an interesting band photo featuring multi-colored jump suits. Where on earth did you dig those up?
Dani Barbieri at Little Lou Productions does a vast majority of our photo and video work. She's always coming up with vibrant and exciting concepts for wardrobe, photo shoots, etc. She tracked down all those jumpsuits online for us to wear at shows, and then we just ended up doing some really fun photos with them too. (Did I mention she's my fiance'? -- and a northwest native from Spokane, WA!)
Please give us a description of what Hood River folks can expect for the July 15 show at Springhouse Cellar.
Expect to dance . . . a lot. It will be loud, aggressive and a lot of fun! We do tons of our original powerfunk, as well as plenty of covers that everyone knows.
A nine-piece band is quite a project to move around on a tour. Is it all in one bus? And who gets to decide which ipod to listen too on the road?
We're all in a 15 passenger van for the time being. It's tight but we make it work! Shotgun usually picks the music. We also listen to a lot of silence, and stand-up comedy when we need a break from music for a minute. But overall it's a pretty eclectic mix and we're an open-minded bunch when it comes to listening material.