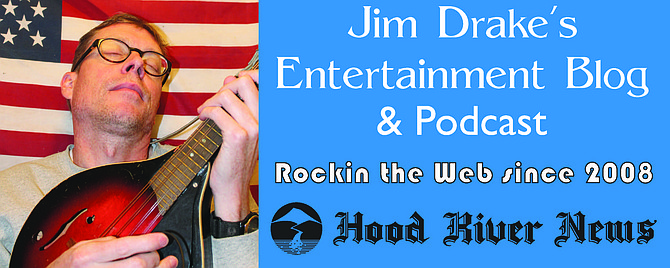 By Jim Drake
A few weeks ago an advance copy of Sean Davis' "Wax Bullet War" landed on my desk. Intrigued with the review that it contained the story of an injured vet that used art as a therapy of sorts to help with PTSD issues from an Iraq war experience from 10 years ago, I decided to give it a read and see what he had to say.
Mr. Davis is 41 years old. On Sept. 12, 2001, he re-enlisted in the Oregon National Guard and became part of one of the first infantry divisions to leave for Kuwait. His descriptions of his training here in Oregon, the process of getting to the Middle East, the travel to the US base in Iraq and subsequent patrol missions - along with his personal life narrative - are spelled out in this brutally honest book.
Yes, this is one of those books that you can't put down. The rollercoaster of events, which include an attack that killed his best friend and critically injured the author, are just as dramatic as what the war does to Mr. Davis' personal relationships and the subsequent struggle with drugs and alcohol as coping mechanisms.
Davis was at the Hood River Library on June 18, and part of his presentation included photographs he took of some of the missions he was on. A lot of the photos included children and teenagers, war-orphans he called them, that form one of the themes in his book. After all the combat training, readiness preparations and yes, training with actual wax bullets in the middle of a foreign dessert, nothing seemed to prepare him for the fact that his first encounter in Iraq was not with an enemy soldier, but with child that was probably under the age of 6.
I want to thank Mr. Davis for stopping by, and I encourage you to pick up a copy of "Wax Bullet War." Davis is actively engaged in the process of trying to make a better life for vets that are struggling with the same issues and he welcomes contact from anyone who knows of someone who needs help.
Interview with Sean Davis
Your book is brutally honest. Did you keep a diary or journal or were you able to write all of this because the memory is still so vivid?
Well, both really, but yes I kept a journal. Tomorrow is the 10th anniversary of when I got injured and my friend was killed. I didn't get to write in it every day, though. I called it a "journal," you know when you're around a bunch of infantry guys you don't want to say "diary" (laughs) to be made fun of or whatever, so whenever we got off of a mission or found some time I would write in it and I kept it up. I also wrote in my leaders handbook, between all the serial numbers and stuff I put in a paragraph or two, whenever I had time. I kept it in my right cargo pocket.
I guess it's an amazing thing that all the paperwork survived the ordeal….
Yeah, it got sent back to me in a footlocker, after I got sent back. All of my uniforms were in the laundry when I got hit, and I went to the combat army surgical hospital. They cut my uniform off of me because of my extensive injuries, the shrapnel and broken arms and legs and stuff, and I was lucky because that day I didn't bring my journal with me. I still have that journal in my desk drawer.
I tried to type up my story when I first got back, and it was so hard to cover this material, you know, I still get pretty choked up when I read it, sometimes. The Willamette Week got a hold of me in 2006, here in Portland, and they did a story on it, and they pretty much put the whole journal in there verbatim, with the spelling mistakes and everything (laughs).
I just kept working on it, and as time went by the material was a little bit more approachable. The first chapter I wrote was "The Kid" and I wrote it in 3rd person, and I made up names for everybody, I didn't even use Sgt. Davis, and it was really hard. I needed that distance between me and the material, and slowly changed it to first person, and then I'd add other stories. It was difficult material.
I'm about half way through your book now, and up to the point I've read, you said several times while training how you miss the things like colors, landscapes, fresh air that inspired the artist in you. How did art help you through the healing process?
Well, there's this huge duality, I' don't know if I'm using the word right, but I've always painted and drawn pictures, and I'd write stories, but when you're a soldier especially going overseas, you just kind of stuff that down inside.
I guess everyone has their civilian half, even when you're in combat, a lot of the guys don't even want to think about home, so a lot of guys squash that down, so the part that I squashed down was the artist, because I thought that would make me weak out there. And then, when I got home, and I think this happens a lot, you lose your identity as a soldier, you don't have that anymore, you're not in combat anymore, it's so raw and so ingrained in you that I didn't know what to do.
I wanted to be that soldier again, because my guys were still over there, and it was really difficult for me to find a purpose and identity again, and by accident I started painting again, and I found that purpose and identity.
And even when I was in combat, a little bit, you know, I think what I thought was weakness in me, that artist side in me, the amazement that the trivial things and appreciation for beauty, I think those things were actually strengths, in the soldier that I was, it helped me see things differently and solve problems that we had over there differently, and so coming back and getting into art again, really and I credit it for saving my life.
I mean, I had really dark thoughts, including thoughts of suicide, and I tried to go to the VA for help, and I don't think everybody seeks help the same way. Maybe sitting in a room talking to somebody is good for some people, but for me it was different, and without art, I don't think I would have made it through.
I keep doing art now, and I hang it here in a gallery in NE Portland. I'm helping with an opera production that's going to be showing in September. It's amazing because there's a $250K operating budget. I'm also doing art therapy for veterans with watercolors here in Portland in July and August and I'm doing one-act stage plays where I have veteran writers and actors. Me helping other vets in art helps me out.
It's been a really hard time for me, it's been 10 years, but I was just telling my wife, I wish the war would leave me alone. I still get this feeling every time this year, it's like a coiled spring in my chest, and anything can set it off. My daughter was throwing a ball around yesterday and it accidentally made a little bit of noise, and I yelled, but I didn't mean too. I just want to be a happy guy, so the war has that effect on me even now. Once war gets inside of you, it just doesn't go away, it's like an echo that doesn't really fade that much. It gets louder again, especially around the anniversaries.
Have you done many of these book readings and what has the response been?
I've been to a lot of places, Portland, Idaho, Utah, which was a great experience, Wyoming, Nebraska, Iowa, a book fair in Appleton, Wisconsin. I went to another big book fair in Port Huron Mich., where I got to read with Brian Turner, who wrote the book of poems "Here, Bullet," and he's a really amazing guy, he was a big attraction. Then I went to Tennessee. In July, I'm heading down to L.A., where there's some people talking about possibly turning my story into a movie, which I'm really excited about that.
What have folks been asking you about at the book readings?
It blows me away, writing this book helps me out emotionally. My main reasons for writing this book was to help out other vets and show them they can live through this, the dark time and pain that they feel, but also to help out their family members and to let them know what their loved ones – combat veterans - are going through. So I thought of a book tour, I thought I'd be ready for it because I knew the power of words, you know. . .
But the meetings blew me away, before and after every reading I'd talk to the veterans that would show up or family members that show up, and they tell me their stories, and I give them my phone and email and they send me written stories. Some of these Vietnam vets, I've got one in particular (I edited an anthology of stories that I put out, and I'm doing my second one right now) that said he had to get this story out, and he tried to take a college class but he said the kids were so young and innocent that they didn't want to hear a non-fiction story about opium dens and prostitutes, and I feel like I'm not part of society again because no one will understand this. And of course I read it and I tell him, yes, I get it, and that connection is amazing.
I think one of the worst problems with the difficult transitions soldiers have coming back is they tend to isolate themselves because they don't feel like they're part of society anymore. And when they can write a story or act, I put them in as extras in productions like the Grimm TV show that is here in Portland, and it's something they can do. It's really cool and they're really proud of it. And they can tell friends and family members about it – they can rebuild those connections from that isolation. Art can really heal the soul and the more connections that a veteran has, the less likely they are to do something stupid, i.e. drinking or suicide.
I was really amazed at the power of just these words, you know. Just me writing about it or me reading their words about it in the opera or stage plays, it's an amazing thing because it can bring these guys out, and it brought me out of that hole that I pretty much dug for myself,
So I'm right in the middle of reading your book and this morning I woke up at 5:30 a.m., I read a chapter and then the radio clicked on to the NPR station. The first story I heard was about the current unrest in Iraq. I'm not a huge geography expert, but it sounded like the problem was in the general area you were at when you were under a mortar attack on your first day there. What do you feel when you still hear the news even after 10 years?
How do I feel about them losing control after undoing all the stuff we already did? Well, the chapter "The Kid," (I know you read that one), I go back to that because that's my metaphor for the entire war. That kid is Iraq, we're there and we can protect that kid….
You're talking about the little guy, who was with his brothers or friends, and you gave him the water bottles, but then you had to leave…..
Yeah, that's the American military, we tried to set them up the best we can, but then we left (Iraq), but we knew it was going to happen again, and it is happening again. It's not a surprise. It seems like we didn't do anything definitive there, and I don't even know why we're still there. And that bugged me for like years, I mean why did my good friend die, why did four guys in my company die, we lost another one later on, and I'm still asking why?
Why did I get injured and now I have to live with this war in my head all the time. I don't know, but what helped me out to get through that was I know, deep inside that I did the best I could to help the people there. Even on the missions that we're supposed to do - movement to contact, to kill people, go ahead and read "Tea at the Baghdad zoo" part, I spent more time deciding who not to shoot at, and taking care of kids, because you can't do a mission over there without tripping on a war orphan. Looking at them will break your heart, they don't train you for this back in the states.
They do a great job of training and I'm not complaining about the military, and my squad specifically, was really good at what they did, but they couldn't even forsee that the children were everywhere, and what do you do with children (when you're trying to fight a war)? That's really powerful and it's really tough.
So we helped, and that's how I got through it. What difference did we make over there? I don't know. I mean we're fighting for democracy but the real truth of it is I think a lot of people over there were making money at war. Just look at what we had in Kuwait, we had cable television, coffee, Burger King, like I said it was like people were trying to colonize Mars. People were making money off of that, and I think that's really horrible and people shouldn't be doing stuff like that. But my guys in my platoon - we did an amazing job and we helped people and did good, and my platoon won the presidential unit citation, which is the same award that they gave Seal Team 6 for Osama bin laden.
They were great guys, we tried really hard, we learned the language, we read about their history, we read the Koran. We made a difference, and that's how I live with it.
Thank you so much for sending me a copy of this book, it's eye-opening and I've never really experienced this kind of first-hand account of events like this. You're welcome,

How did opera happen for you? (We both laugh)
I currently working on "The Canticle of the Black Madonna," a new opera featuring veterans which will premier in Portland this fall. Any veteran who can be there on Sept 4 at the Newmark Theater in Portland is free for vets and family members, I've got 800 seats to fill, and I hand my contact info out to anyone on the chance that they know a vet that could use the kind of help I can do.
Well, basically it's helping people, that's what I do, and that helps me out, that's how I do my therapy, right, that's my going to a counselor and stuff. But when I was doing the first anthology of war stories I would get a bunch of writers and poets together and I just made myself known throughout the Portland community and got award-winning people to give me material for this collection.
But anyway, I want to help any way I can, and one day I met these two people who wrote a really nice opera, down in Eugene, it was awesome. It was about a vet coming back from Afghanistan, it was during the BP oil spill, and his wife is an environmentalist, and he's got PTSD and is having difficulty transitioning back into society, and she's having trouble trying to save the ecosystem. Anyway, a friend said to them you should contact Sean to bring in some vets to this production.
It's going to be a great venue, and vets can watch it and start to make the connections back to a normal life.