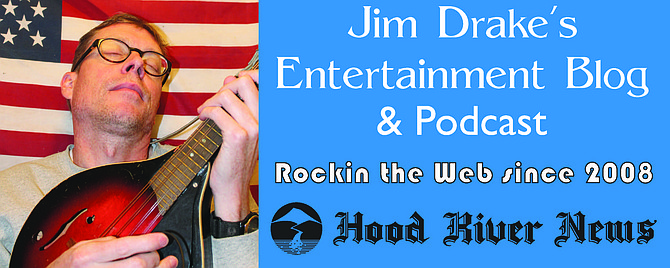 By JIM DRAKE Hood River News
For the last three years, The Friends of the Library has sponsored a free music concert featuring classical guitarist Peter Fletcher, and I've been fortunate to get a front row seat every time I've gone. I know a lot of guitar players. And most of the time, they bring a lot of stuff to a gig: Amplifiers. Cords. Picks. Microphones. Capos. Ipads. Setlists. Phase Shifters. Tuners. Additional Muscians and Duct Tape to hold down all the cords, setlists and Phase Shifters to the floor.
Peter walks into the room with two things. A guitar, and a folding foot stool. He's dressed like he's ready to play Carnegie Hall (which he has) and that reflects his philosophy that every single show he plays is important to him.
For the most part, I can watch a guitar player and get a good sense of what chord shapes are being used. But classical music is a little different — and watching the complex finger shapes move up and down the frets is mesmerizing. There were a few times that my brain realized that, yes, for a split second there, "a Major Chord shape that looked familiar and sounded familiar" was being played, and if I could freeze the moment, I may be able to copy.
But then, I'd look at the right hand, which would be alternating four different fingers on strings in a seemingly random pattern and realize that, no, that five-second passage would probably take me five months to learn.
At least six pieces that Peter played last Tuesday were from his brand new CD "Music for the Christmas Season." His choices made for a really nice post-Halloween/pre-holiday listening experience, because they hardly play traditional Catalan folk songs or Agustin Mangore's "Villancico de Navidad (Christmas Carol) on the radio nowadays. There's 12 "standard" Christmas tunes on the disc, too, which I promised myself I won't listen to until the retail stores start decorating for the holidays. (oops, should have started listening after Labor Day).
Peter Fletcher is an inspiring performer. Every time I see Peter play, I want to put my guitars on eBay. But what I really want to point out is he would be a perfect fit for a larger scale Hood River community concert, either by himself, or with a local orchestra. It's time for more people to enjoy this. I guarantee that any music you ask him to learn, he will make it look so easy.